As a person who has spent a lot of time with young children, I'm still undecided as to whether or not teaching kids between the ages of 3-5 about President's Day is age appropriate. Finding Presidents' Day activities for preschoolers that are meaningful is not easy.
After years of scouring the internet, taking note of the activities that were happening in February in my own kids' school, I've decided it is worth the trouble to celebrate President's Day in family child care. In this post, I will share some of my favorite activities that the kids enjoyed most.
Try now or Pin it to your February Theme Board!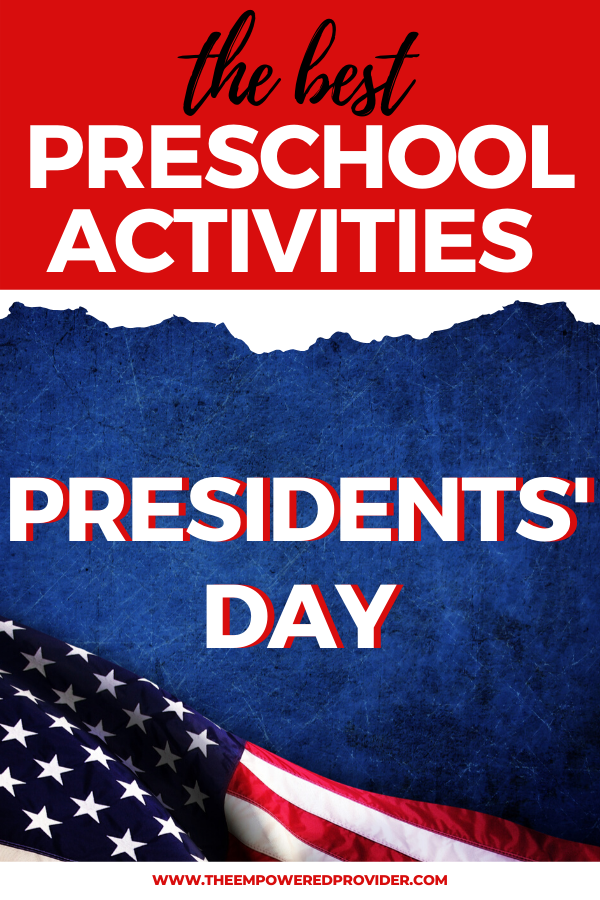 When is Presidents' Day?
Presidents' Day is celebrated in the United States on the third Monday of February. This day is also George Washington's birthday.
---
Presidents' Day: Circle Time
Start a discussion about presidents with the kids using the following suggestions:
Does anyone know what the president does?
Show the kids a few photos of the presidents. Here is a fun poster that has some of the presidents along with photos of when they were kids!
What would you do if you were President for one day?
Compare & Contrast Coins: Ask each child to bring a coin from home. Talk about the differences they see in each coin and share the names of these coins (penny, nickle, dime, etc). Point out the different President images on each coin. These jumbo coins are pretty cool too!
Let the kids try on a President wig from the Colonial Era. Take fun pictures to share with the parents.
As an Amazon Associate I earn from qualifying purchases.
---
Presidents' Day Activities: Math
Using coins is a great way to talk about the Presidents!
Money is something kids are familiar with which gives you a little bit of leverage in creating activities that are meaningful for them.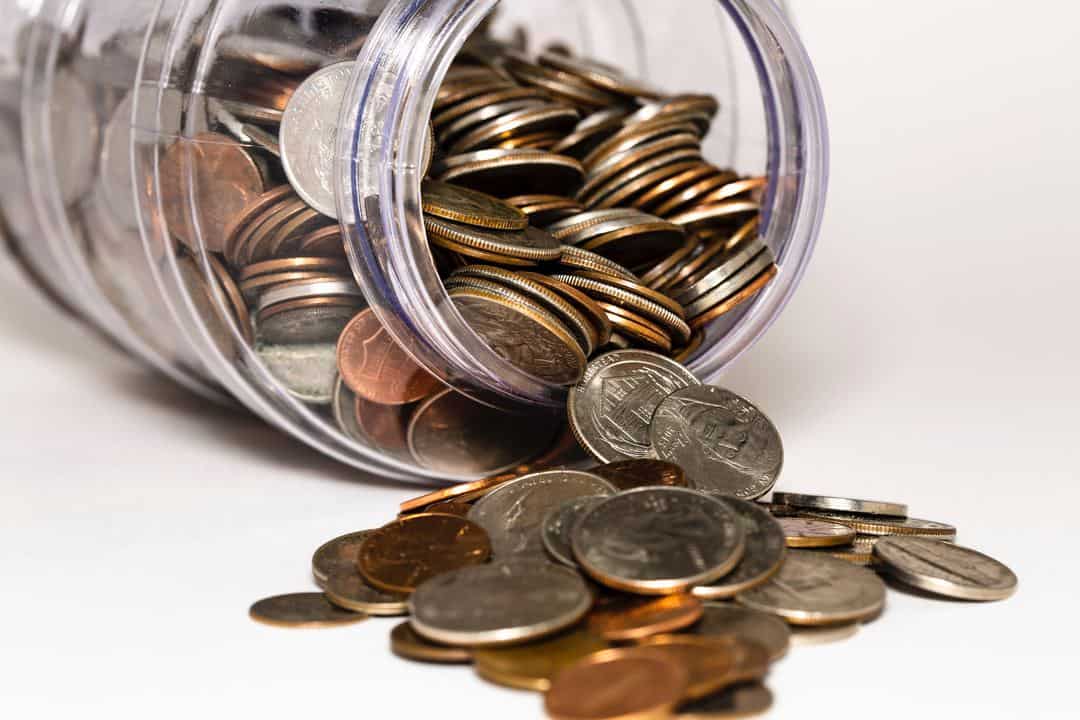 ---
Presidents' Day Activities: Fine Motor
You'll never believe how long this activity keeps kids' attention! It will take a little bit of work to prepare this homemade "toy"…but once it's complete you can save it for years to come.
---
COIN DROP
ITEMS YOU WILL NEED:
Large Plastic Jar with Lid (cheese balls or animal cracker tubs work great!)
Small Plastic Cup
Bowl of Coins (dimes, nickles, pennies, quarters)
PREPARATION:
Carefully cut a slit large enough for coins to fit through in the center of the lid.
Hot glue a plastic cup inside the base of the jar.
Fill the jar 3/4 full with water. (Experiment with keeping the top of the inner cup exposed or covering it with water!)
Put the lid on the jar and secure tightly.
Set a bowl of coins next to the jar.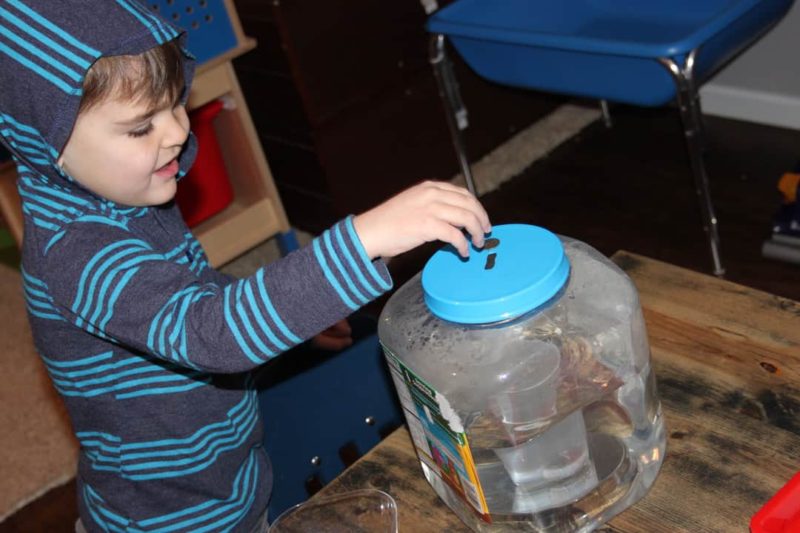 Leave this center out and allow kids to interact with the activity at their own pace. Kids will love hearing the 'plunk' as the coins hit the water. Older kids will love the challenge of trying to get the coins to land in the inner cup.
Tip: The smaller you make the opening in the lid, the greater the challenge becomes for building fine motor skills!
---
PRESIDENTS' DAY ACTIVITIES: CREATIVE ART
Coin Medallion Necklaces
ITEMS YOU WILL NEED:
Red, White & Blue Construction Paper
Yarn (Red, White or Blue)
Glue Dots (Liquid Glue will work too)
Coins (one for each child)
Hole punch
Scissors
Glue stick
PREPARATION:
Depending upon the ages of your kids, you may want to pre-cut colored circles in this order from biggest to smallest: Red, White, then Blue.
Let older kids cut their own. It may be helpful to provide circular templates for them to trace.
Cut the yarn for each child at a comfortable necklace length.
Boost Engagement! Ask families to send along one coin with their child on the day you plan to make these necklaces.
HOW TO ASSEMBLE MEDALLIONS:
Assemble the medallions by gluing each circle on top of another, starting with the biggest circle (red) on the bottom and ending with the smallest circle (blue) on top.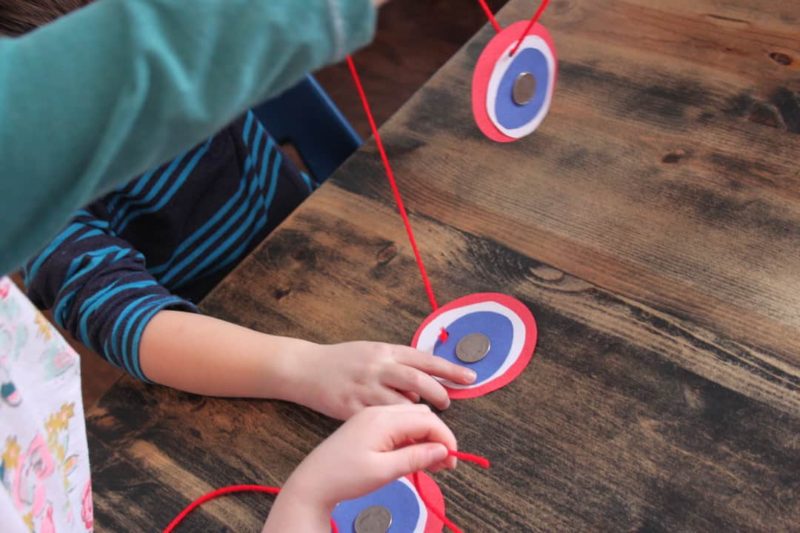 Attach a coin in the center of the medallion (Glue Dots work well!).
Punch a hole in the medallion to insert the yarn and tie a knot to secure.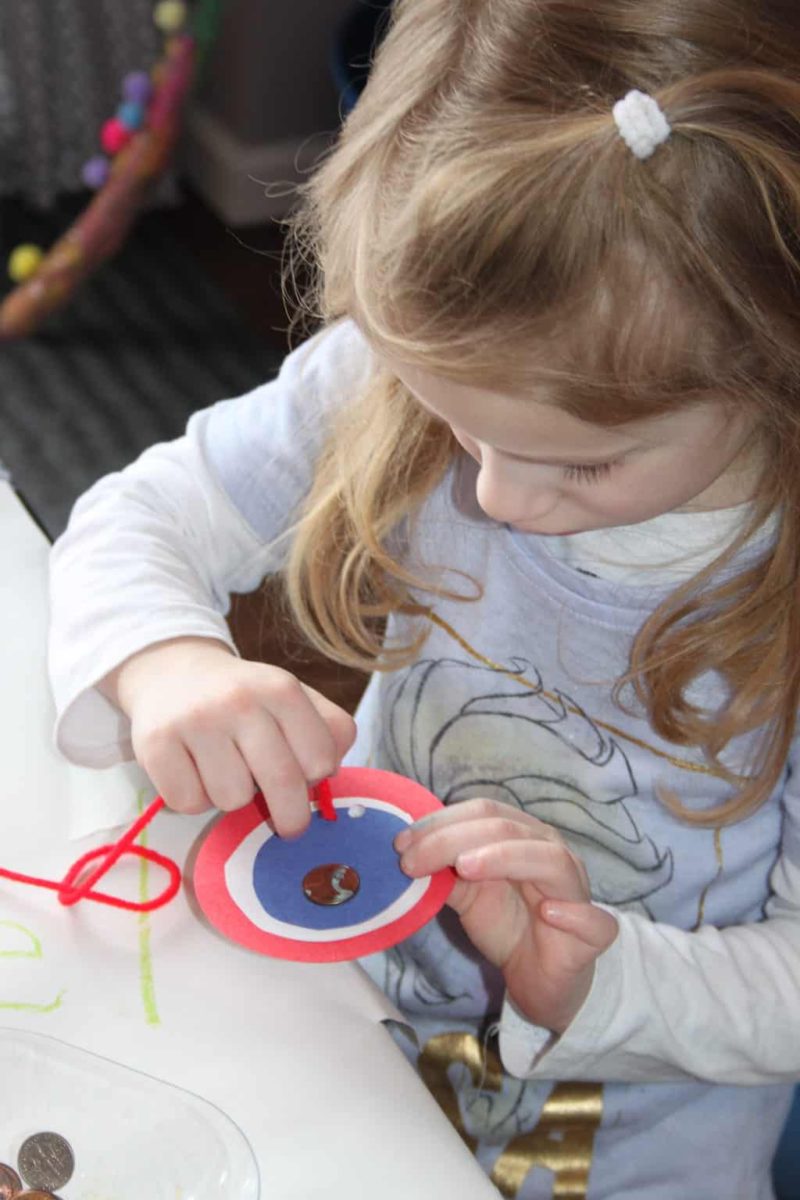 TIP: Earlier in this post I suggested kids bring a coin from home. Use this coin as the featured coin on their medallion. The kids will love showing off their coin.
Pre-Math & Geometry Add-On: Use your pre-cut circles used in this activity to demonstrate the different sizes of circles and using terms such as "small, medium and large". Compare the circles by asking which one is "bigger" or which one is "smaller"? You could also sort the circles to build on classification skills; sorting the circles by color or size.
---
Presidents' Day Activities: Keepsake
Skip the cherry tree talk…young kids won't understand it. Instead, tease out learning by letting the kids pretend to be President.
As mentioned above, purchase a colonial wig of some kind and snap a photo of each child. Ask them what they would do if they were President for one day and fill in the following sentence for each child:
If I were President for one day, I would…
---
Get More Great Ideas for your Early Childhood Program!
---