Loads of learning and fun can occur when you pair popular children's books and activities to bring the book to life.
Sort of like Diet Coke & French Fries or Spaghetti & Meatballs or peanut butter & jelly…
There's just something about having a little extra fun with a really good book! Today I am sharing some super simple ways to make these five children's books come to life!
Get started now or PIN for later!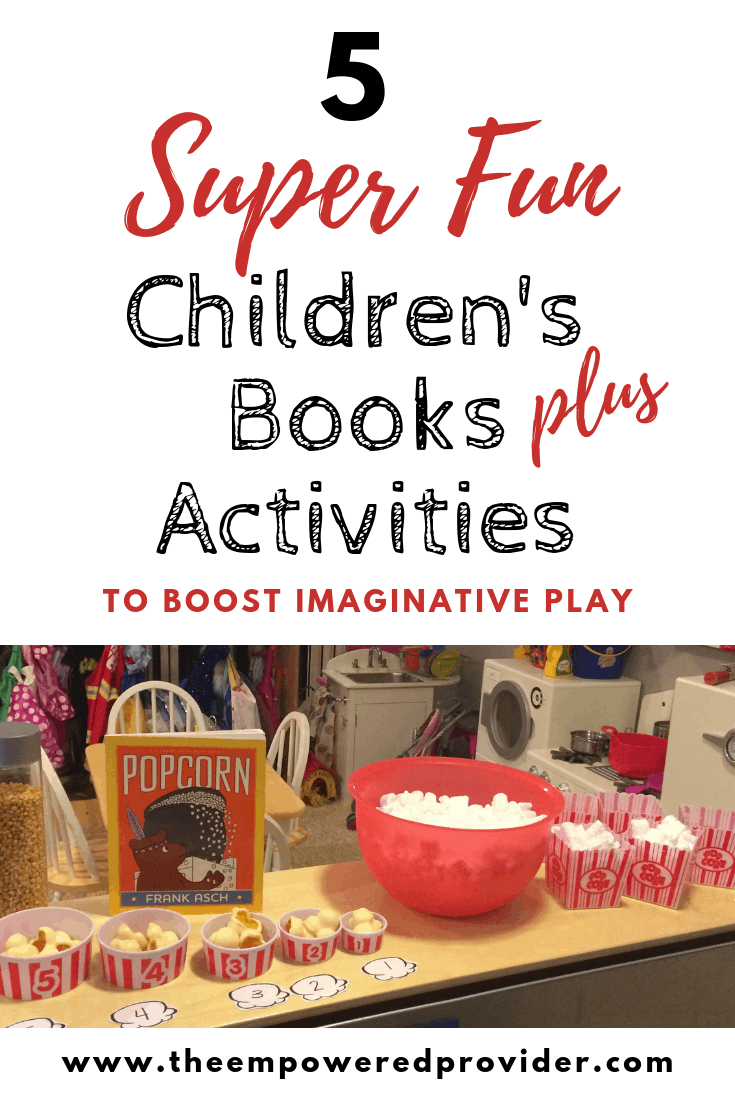 Reader's note: As an Amazon Associate I earn from qualifying purchases.
Here are five book and activity combos that will have you feeling like a curriculum planning genius!
Harold & The Purple Crayon
PREPARATION:
Hang large banners of butcher paper at a preschooler's eye level on your walls. (alternate option: Cover a table in white paper instead)
Fish out every purple crayon you can find.
Ask the families to dress their child in purple for the day.
Purchase Duck Masking 240880 Purple Color Masking Tape.94-Inch by 30 Yards" rel="noopener noreferrer">purple masking tape and create an intriguing purple line on the floor throughout your space.
GO TIME:
Read the story Harold & The Purple Crayon
Talk about Harold's wild imagination!
Let the kids create a purple mural on the hanging paper. Instruct kids where they CAN color. Give them clear boundaries so you don't end up with purple crayon on your walls.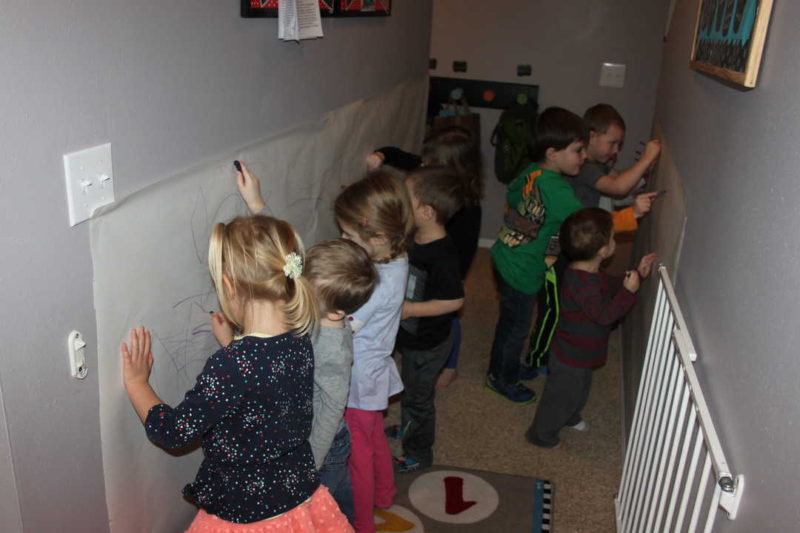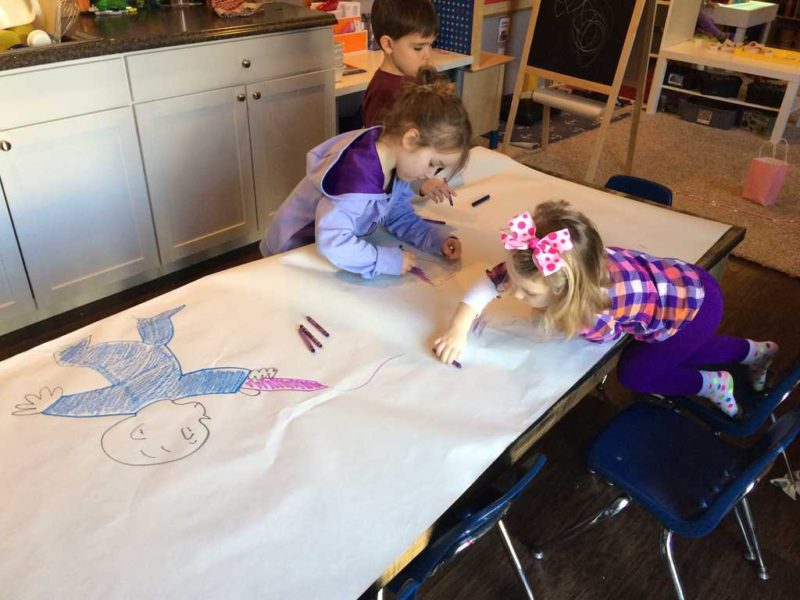 Little Blue & Little Yellow
By: Leo Lionni
This is a cute little story about friendship! Preschoolers will love to play a role as you read this story.
PREPARATION:
Make a batch of blue play dough and yellow play dough Here is my favorite recipe!
Tip: Place a small ball of each color in a ziploc bag for every child for easy distribution at story time.
GO TIME:
Before you read the story, talk about the word "Hypothesis"…what do the kids think will happen if you mix the yellow & blue play dough?
After the story, ask the kids to let their balls of dough "hug" just like little blue and little yellow do in the story.
Bonus Activity #1: Leave extra blue and yellow dough on the table for further exploration!
Bonus Activity #2: Offer blue & yellow paint at the easel for kids to transfer this concept to other mediums.
Bonus Activity #3: Fill ziplock bags with a puddle of blue paint and a puddle of green paint. Double bag if you're worried about little boys or girls poking through the plastic. Adhere to a patio door or to a table using painters tape. Let kids squish and slide the paint around and watch the colors mix together!
Bonus Activity #4: Pre-cut blue and yellow paper circles and leave them in the writing center to encourage some artistic pieces!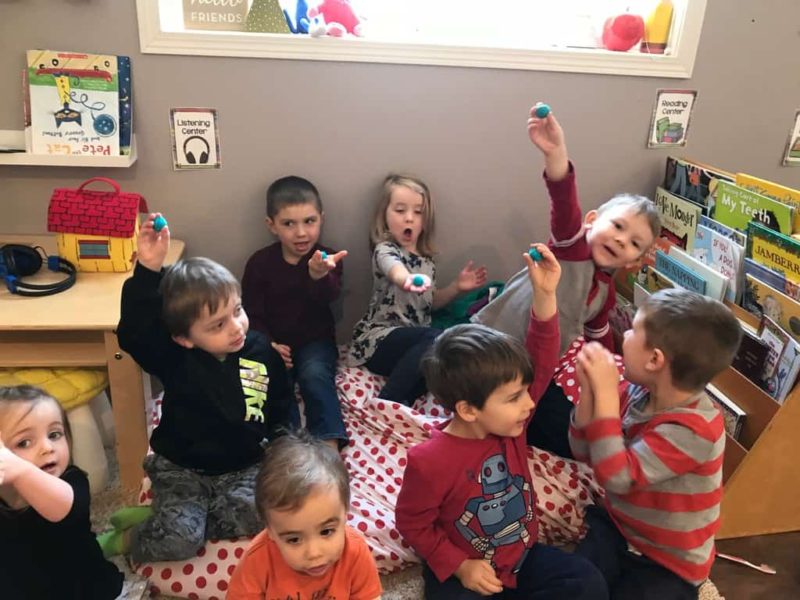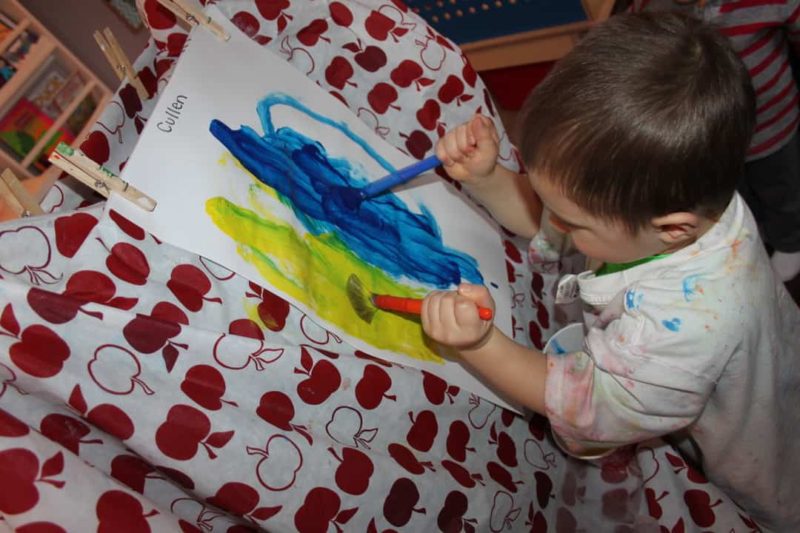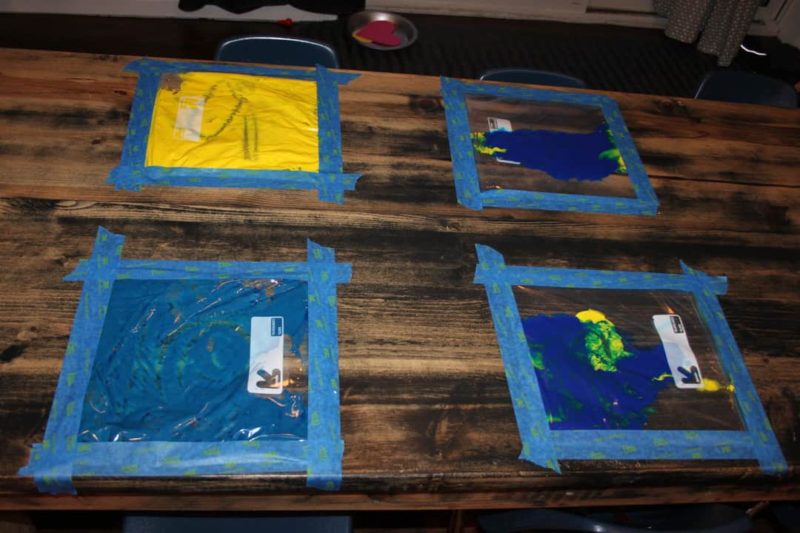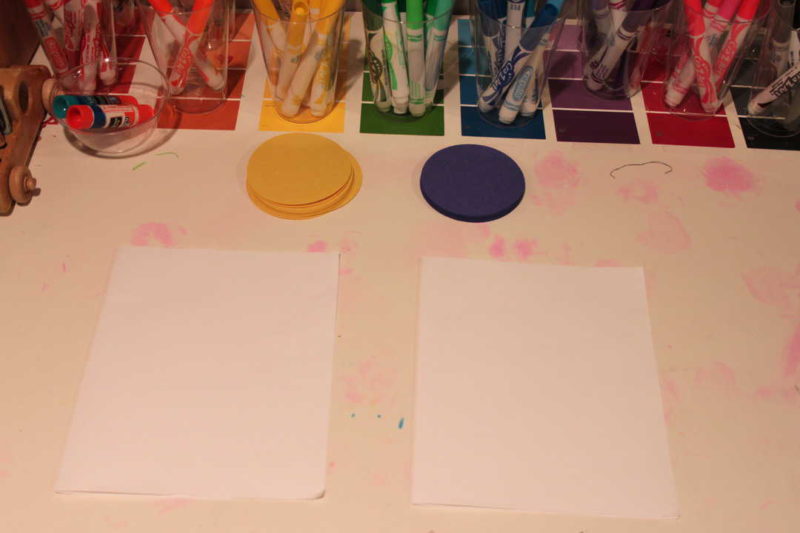 Popcorn
By: Frank Asch
Kids love popcorn! Announce that there will be a popcorn day to get the excitement flowing in your group!
This story is about a little bear who has a Halloween Party and all of the guests bring…you guessed it…POPCORN!
PREPARATION: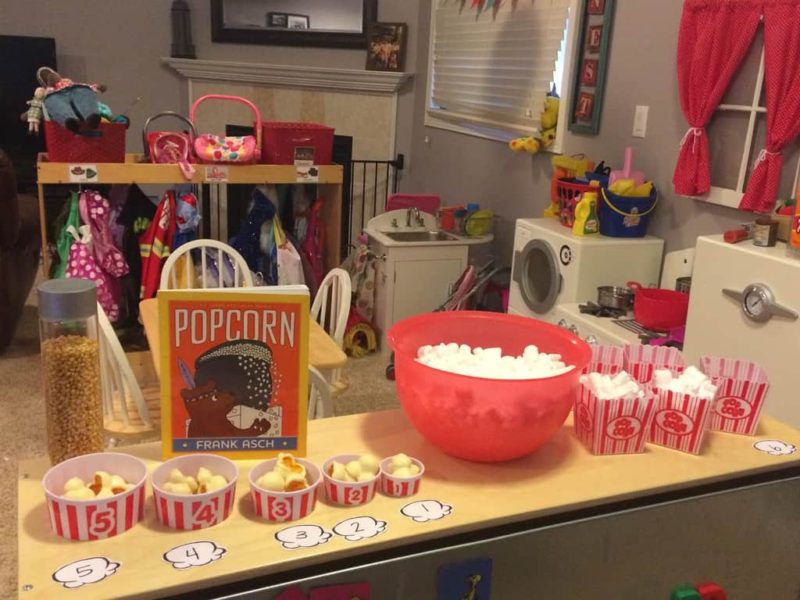 GO TIME:
Read the story "Popcorn" by Frank Asch.
Write the word "POPCORN" on the board. Ask the kids to find the word "POP"! Talk about how they think this food got it's name.
Use the math worksheet to hunt for numbers or letters…color with a yellow crayon to make it look like buttered popcorn.
Dance to THE POPCORN SONG suggested above.
Give a popcorn popping demonstration.
Make a list of things kids would like to add to their popcorn (i.e. M&Ms)
Watch a movie with your yummy popcorn!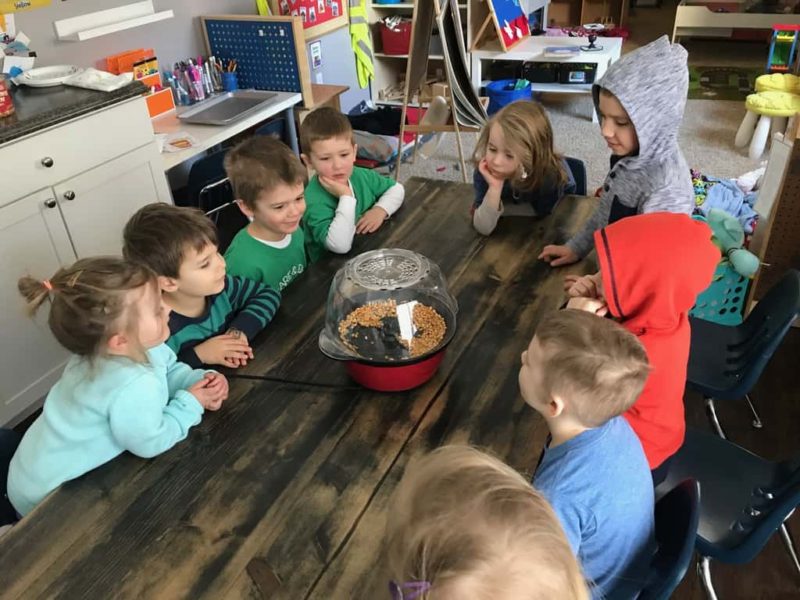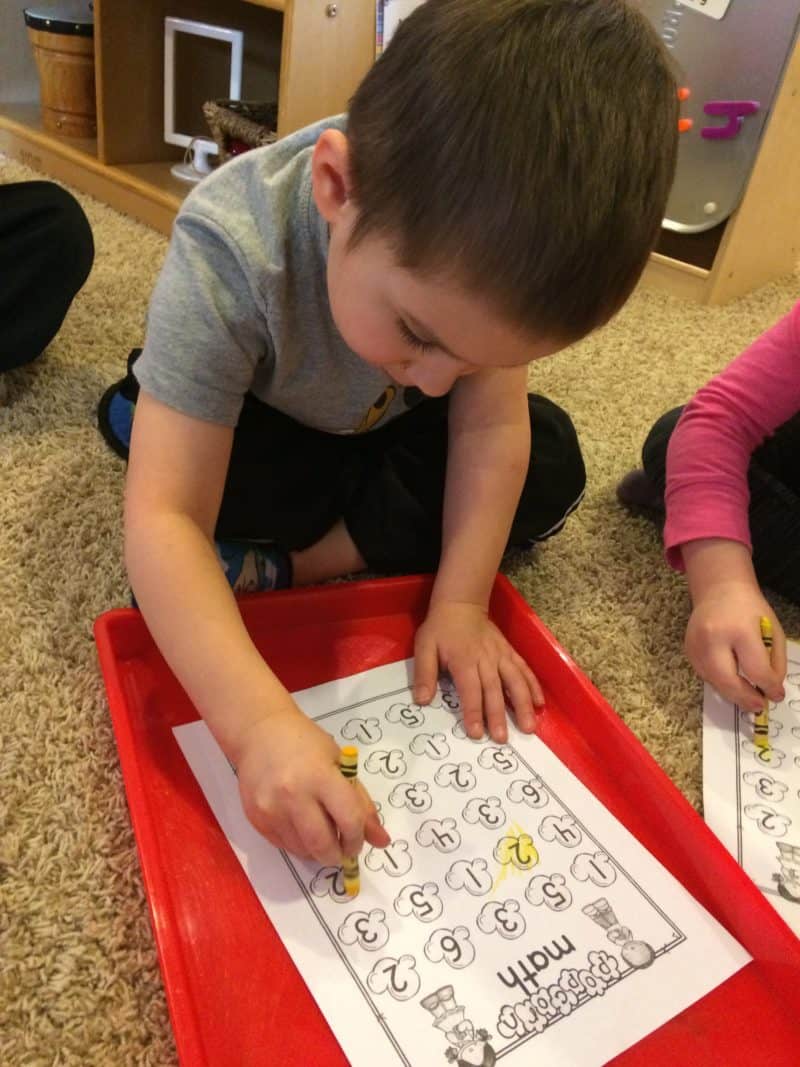 Blueberries for Sal
This adorable story about a boy and a bear who get mixed up with their mothers while searching for blueberries has been around awhile but kids still love it just the same.
PREPARATION:
Pick up some blueberries from the grocery store–add them to one or two of your meals (blueberry pancakes, smoothies, etc)
Collect some jumbo dice (regular dice will do in a pinch) and blue/purple dot markers
Lay out a giant piece of butcher paper and draw the outline of a landscape of bushes.
Google your favorite yogurt-covered blueberry recipe! Don't have one? You will soon! These are so easy to make with kids.
GO TIME:
Allow kids to sample a blueberry and create a chart to graph their results. Build on math skills using words like "most" and "least".
Serve blueberries at meal time(s).
Play a 1:1 correspondence counting game: Have the child roll the dice. Ask them to stamp the same amount of "blueberries" on to the landscape using the dot marker. Repeat until your blueberry bushes are full! Add the title: Blueberries for Sal and hang in your play space!
Cut out small blue circles. I love to use this circular paper punch to save time. Hide the circles around your play space. Ask kids to hunt for blueberries just like Sal!
Dip blueberries into yogurt using a toothpick. Lay on wax paper and let them firm up in the fridge before devouring.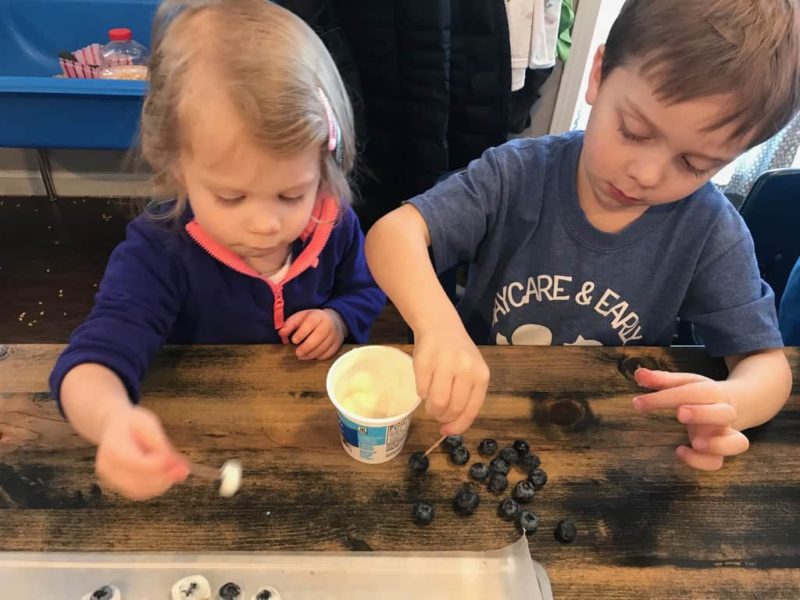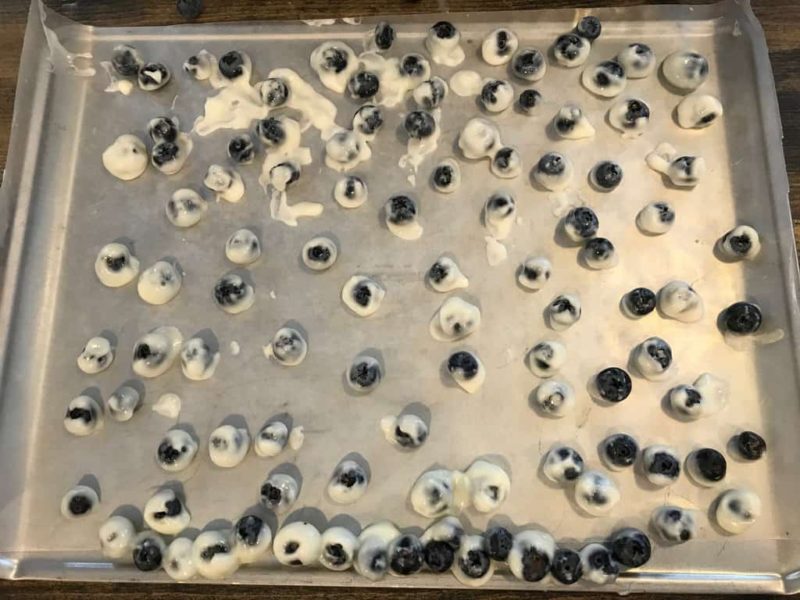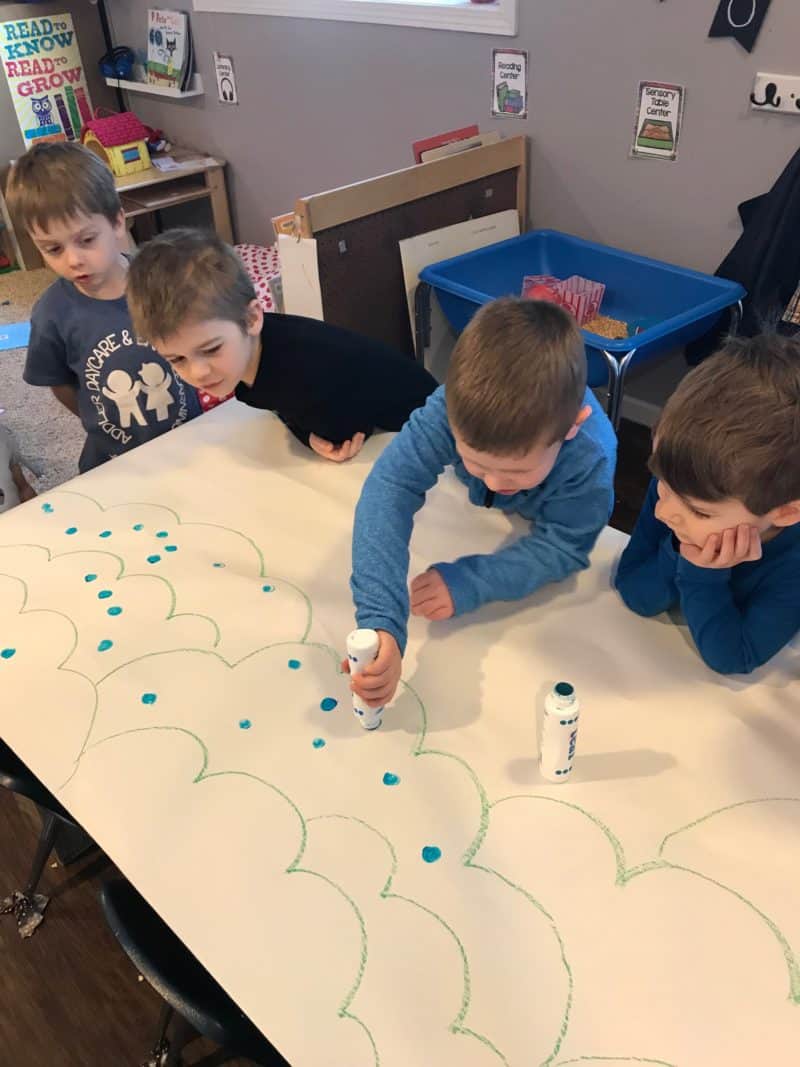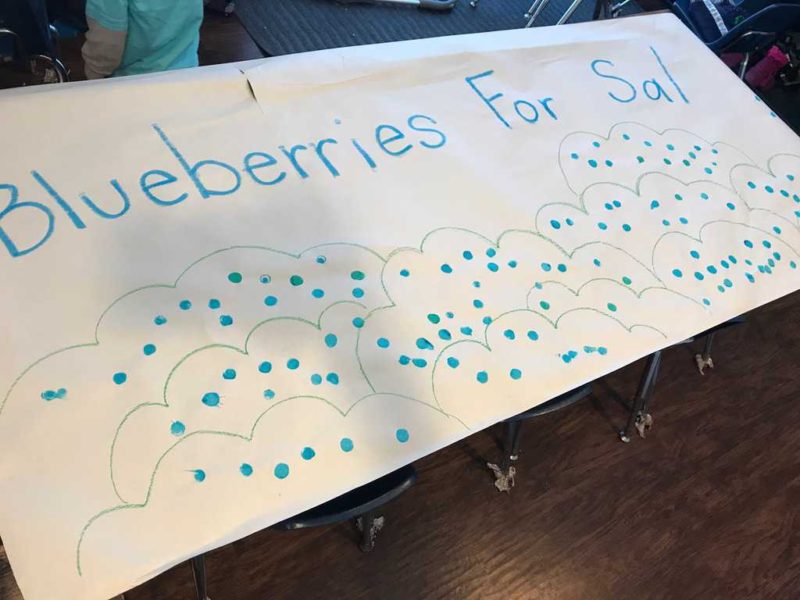 Mouse Count
By: Ellen Stoll Walsh
Kids love the drama this story brings as a greedy snake rounds up lunch that consists of 10 mice in a jar…'little, warm, and tasty, fast asleep'.
PREPARATION:
Gather the following materials to retell this story: a green or brown men's sock for the snake puppet (add googly eyes if you so desire), a tall clear jar, and 10 cotton balls (the mice) and a rock.
Model Magic Clay (green or brown will do) to roll out snakes.
Use number flash cards (or make your own) 1-10.
GO TIME:
Read the story to the kids one time through.
Allow them to make observations…how do you think the mice were feeling in this story? What did they notice about the numbers at the beginning of the book and the end of the book?
The author uses the word 'greedy'…talk about what this word means.
Read through the story a second time, using the props to act out the story.
Bonus Activity #1: Use green or brown model magic clay to roll out snakes.
Bonus Activity #2: Make edible snakes and mice using store bought pizza dough. Sprinkle with salt for extra flavor.
Bonus Activity #3: Find a large box and leave it out for kids to act like mice –going in and out of the jar (the box).
Bonus Activity #4: Draw an outline of a jar on a piece of construction paper. Print off photos of little mice. Let kids cut them out and glue in the jar.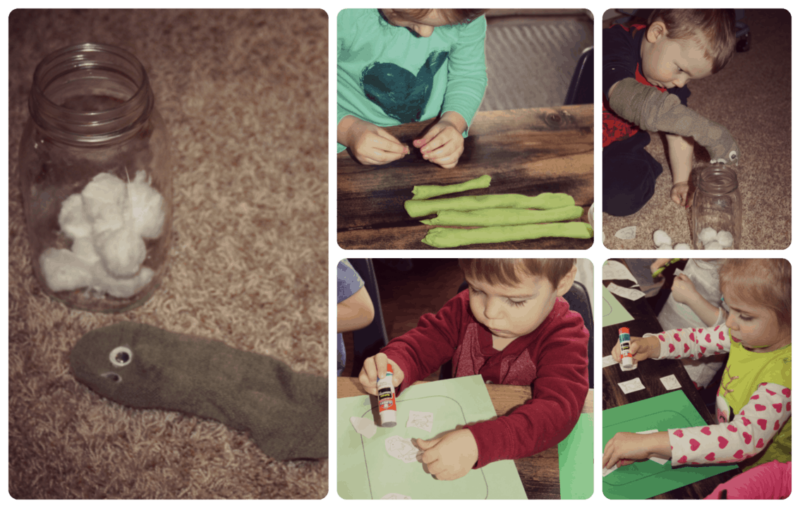 Pairing books and activities is a great way to pull your space and activities into focus. Utilize the books children already love to incorporate not only pre-literacy skills but oodles more!