One of the best dental health month activities is to transform your dramatic play area into a dentist office! The supplies you need to make this happen are minimal, but the fun and learning that occur are big time! In this post, I'll show you how transform your dramatic play area by showing you how to set up a dentist office.
---
Read Now or Pin to Your February Theme Board!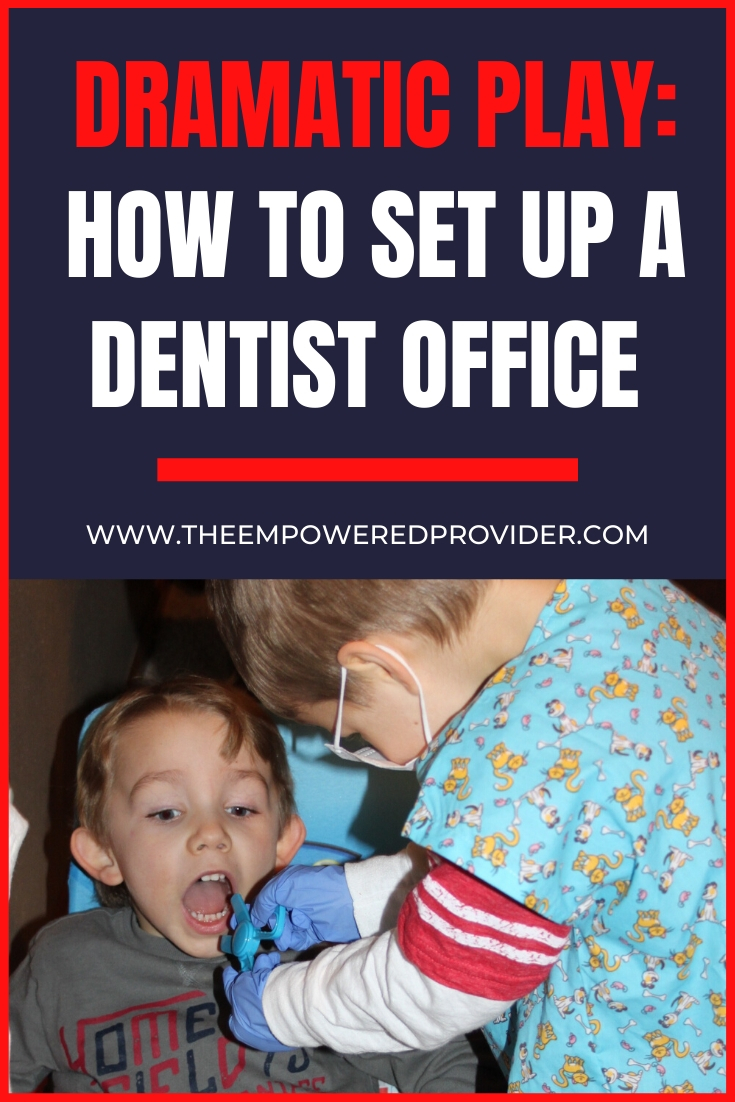 What is Dramatic Play?
Dramatic play is term used in the early childhood world that basically means 'pretend play'. If you ever played 'school' or 'house' or 'store' as a kid…you were partaking in dramatic play, my friend.
I love this explanation of dramatic play by Children's Factory:
Dramatic play is a type of play in which children accept and designate roles, and then act them out. It is an activity where they break through their norms, pretend to be someone or something different from themselves and dramatize situations and feelings for the characters they have chosen.

CHILDREN'S FACTORY
---
Why do young kids love to pretend?
The dramatic play area in our play space was one of the busiest areas of the room. Toddlers and preschoolers alike gravitated toward whatever was out to use for pretend play. Whether it be our pretend kitchen, the market stand or whatever happened to be featured at the moment…they were in it for the long haul; making plans with friends, divvying up roles and getting to work.
The folks over at Rasmussen College say that kids use dramatic play to explore their own thoughts and feelings. Kids need a space to do this kind of exploration and it feels good to figure out the world in a way that is familiar—PLAY!
---
How is setting up a dentist office for dramatic play helpful to children?
If dramatic play allows kids to safely explore their thoughts and feelings, than the same is true if they are allowed to play out the scenario of going to the dentist.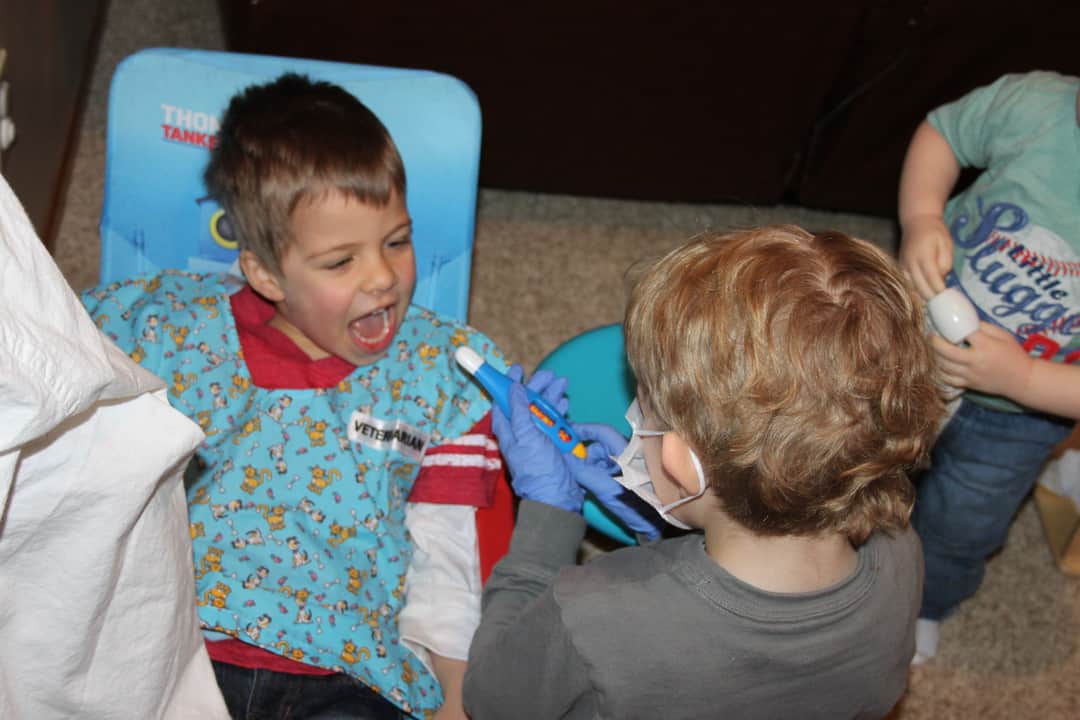 Talk about an anxiety-ridden time for some kids.
Setting up a play 'office' in which kids can pretend to be the dentist or the patient allows them to practice how they will manage these moments in real life.
Going to the dentist is something many kids worry about because going to the dentist is rather unfamiliar territory as it typically only happens 1-2 times per year.
Setting up a pretend dentist office will help kids become more comfortable with the concept of going to the dentist.
---
Other Ideas for your dramatic play area
JANUARY: Ice Skating Rink
FEBRUARY: Valentine Gift Shoppe/Dentist Office
MARCH: Car Fix-It Shop
APRIL: Flower Shop
MAY: Pizza Parlor
JUNE: Library
JULY: Farmer's Market
AUGUST: School Supply Store
SEPTEMBER: Apple Orchard
OCTOBER: Costume Shop/Pumpkin Patch
NOVEMBER: Coffee Shop
Unlike other dramatic play set-ups, this one might take a little preparation of materials, but I assure you it will be well worth it!
---
How to create the best pretend dentist office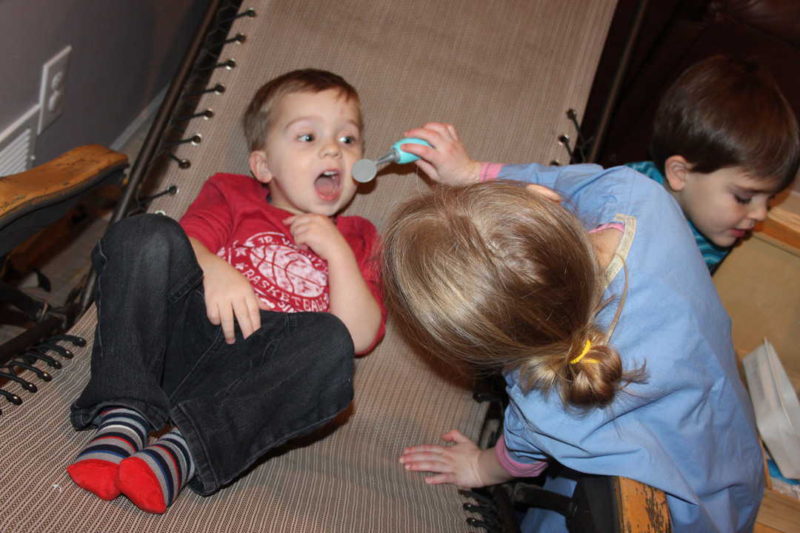 SUPPLY LIST FOR A PRETEND DENTIST OFFICE
A folding beach lounge chair (with head and foot rests)
Toy Doctor Kit
Lab coat(s)
Welcome Sign (FREE PDF Printable!)
Clear safety glasses
File folders and papers for charting
X-Rays
Stuffed animals
Dolls
Patient bibs
Face masks
Cash register
Toy phone
Photos of dentists
Books About Dentists
Desk (something to act as a check-in counter…I use my market stand)
Small stool (Try these from IKEA!)
real models/molds of teeth
Pro Tip: Make a visit to your local dentist and ask if they will donate various supplies that are safe for kids to play with; including the items in bold above.
Go the Extra Mile! While you're there, inquire about having one of their dental hygienists come and do a short presentation for your group!
Be Frugal! Send out an email to your clients asking if they have access to any of the resources needed!
Be sure to include plenty of writing materials as a way to incorporate some pre-writing skill practice in a natural way!
---
Other Resources to Help You Create a Pretend Dentist Office
DENTIST OFFICE DRAMATIC PLAY BY: BEYOND IMAGINATION
15+ WAYS TO USE A PLAY STAND FOR DRAMATIC PLAY
I love this one by CHILDREN'S VILLAGE. A good reminder that imagination and rich play opportunities can emerge from even the most basic set-up!
This next one is a beautiful resource found on teacherspayteachers! These printables were created by 'Fairy Poppins' and are ready to be hung in your pretend dentist office (laminate for longevity).
CLASSROOM DENTIST OFFICE by cavityfreekids.org
Share photos of your dentist office below in the comments !
Looking for more ideas for February! Try our VALENTINE MATCHING CARD GAME.