I'm guessing the kids in your program have painted on paper…but have they ever painted on aluminum foil? Today I'm going to share a sensory art foil painting idea that will have your little artists ooh-ing and ahh-ing.
Read now or Pin for later!
---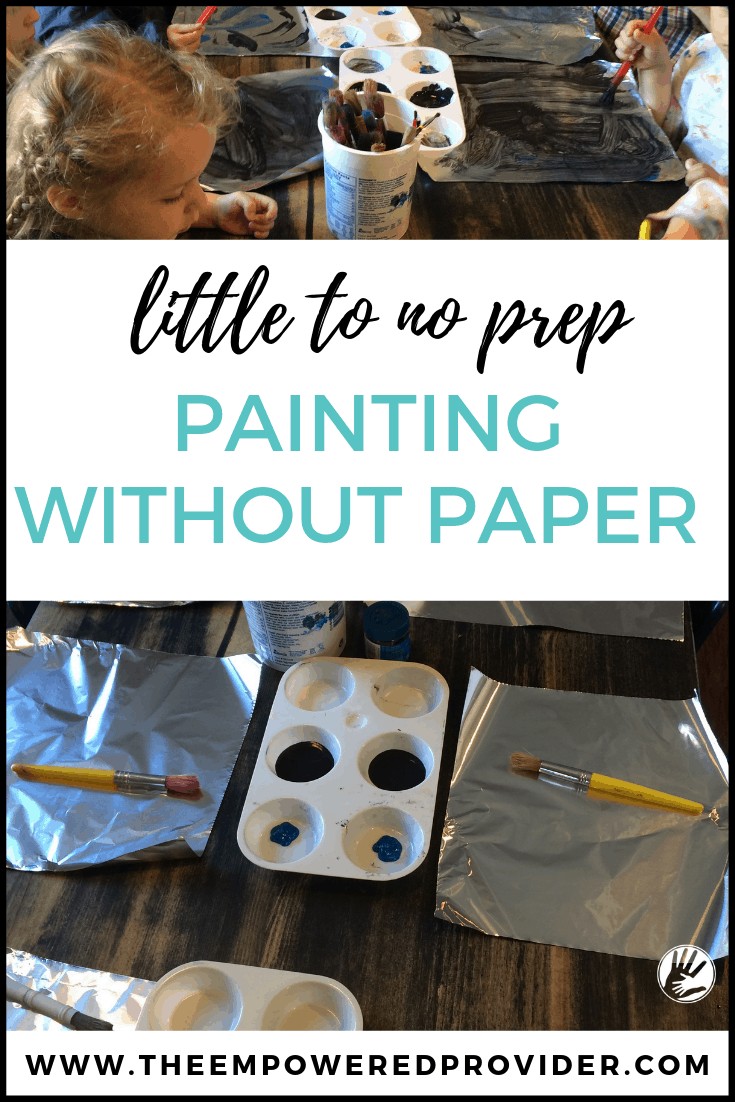 ---
SENSORY ART PROJECTS FOR KIDS
This easy sensory art painting idea is a great one to save for the day you show up less than normally prepared. It requires very little set-up and you most likely have all of the materials in your cabinets.
Toddlers and preschoolers will enjoy this process-oriented project.
This project also engages the fine motor muscles in young children as painting on foil takes a little more control than when painting on paper.
---
Can you paint on tinfoil?
The short answer is yes!
The paint dries in a fairly crinkly fashion, but when handled with care can be preserved and put on display.
Kids love listening to the soft crinkle that foil makes when the paint is applied to the surface with either their hands or a paintbrush. Which adds another element to the 'sensory experience'.
---
Sensory Art Benefits
Sensory art provides oodles of benefits for young children. In fact, I love how Allison McDonald, over at No Time For Flashcards explains it:
The benefits of including additional sensory elements to art projects are not just novelty and interest; it also allows children to connect to different skills in new ways. When your students are exploring these sensory activities, they are making new fine or even gross motor coordination, how to take in information using different senses, and all the while learning new vocabulary, and of course, having fun.

Allison McDonald
---
How to Paint on Foil
Supplies You Will Need for Foil Painting:
Aluminum Foil (The Dollar Store is a great place to get cheap rolls!)
Paint Brushes
Washable Tempera Paint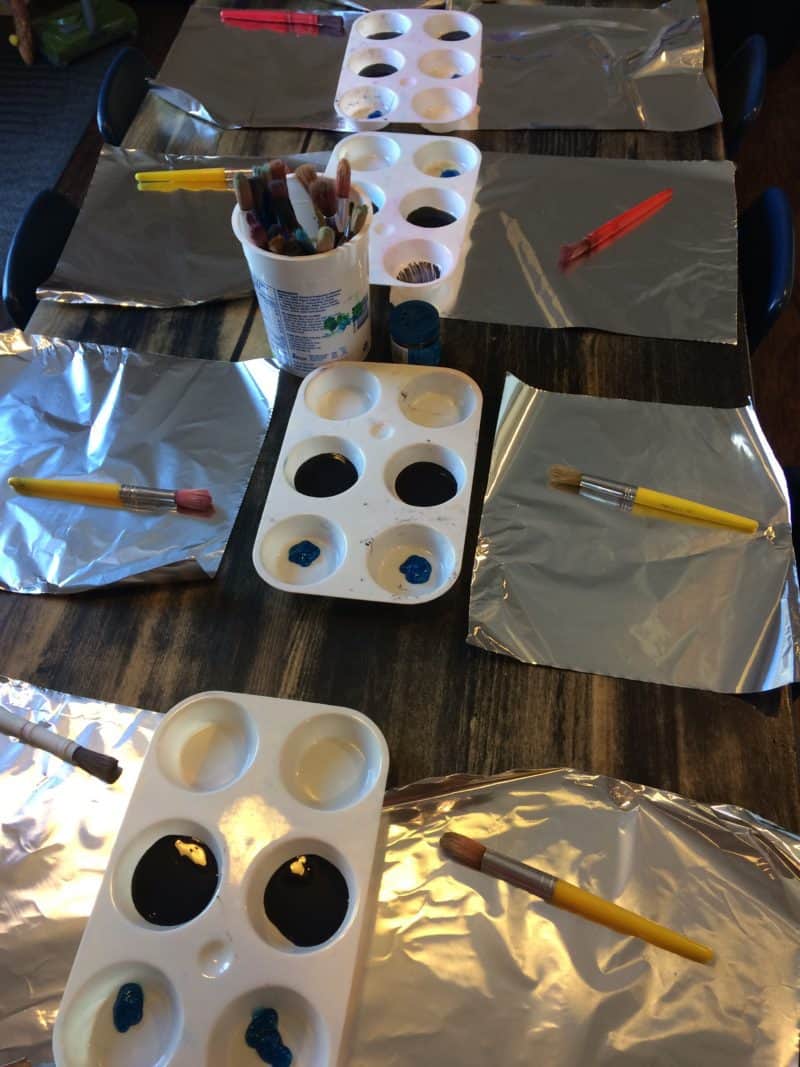 Preparation:
Cover your work surface. (optional)
Layout a piece of foil and a paint brush for each child.
For easy clean-up use a paper plate as your painter's palette!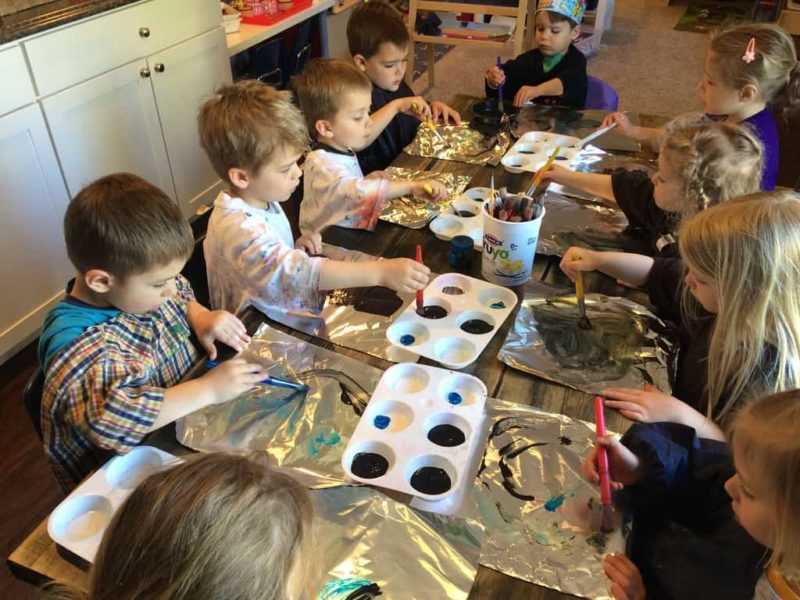 Go Time:
There's not a whole lot for the adult to do at this point except standby and watch the kids explore how a familiar material such as paint, reacts to the new surface (in this case, aluminum foil).
Offer to clean out brushes and re-fill paint or deliver a fresh piece of foil as needed.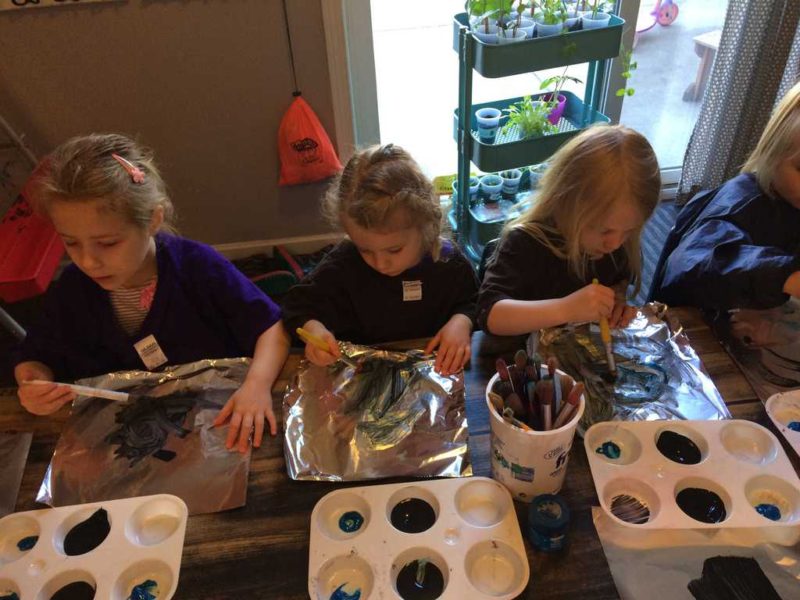 Extension Activity:
This easy painting idea for kids could be incorporated into an outer space/planets theme!
Have fun painting on this shiny surface!
---