Seeking out easy painting ideas for kids means you are offering process-oriented art opportunities to your crew. Process art simply means the focus is on the actual physical activity of creating, and not the finished product.
Process art activities that are easy for young kids to manage, allows them freedom to explore mediums such as paint…which is one of my favorites!
I realize reading the words 'paint' and 'freedom' and 'young kids' in the same sentence may have some of you clicking out of this article and running for the hills (or maybe just more caffeine).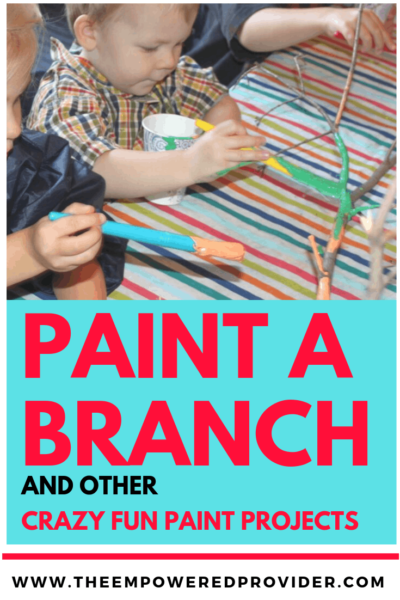 You see, most of us adults don't like mess. The majority of family child care programs are run out of a shared space (family space + business); which leaves our nice dining room chairs or our favorite lounger at risk for tiny paint hand prints if heavy supervision isn't in effect.
It's a bit of a conundrum.
Kids need to explore and get messy.
Providers want to preserve their home and the things in it.
So how do we meet the needs of both parties?
EASE YOUR WAY INTO PRESCHOOL ART CURRICULUM
Before you jump into activities like painting with plungers (super fun, by the way), you will want to go over some basic elements of using paint in your program with young children:
Pressing pause and taking time to teach young children how to use the tools properly boosts confidence and also makes your supplies last longer!
PREPARING THE SPACE FOR PAINT ACTIVITIES
The more prepared you are for a mess, the better luck you'll have come clean-up time.
PAINT PREPARATION TIPS
Cover your paint space with newspaper or invest in a wipe-able table cloth that is designated for paint activities.
Use paper plates or paper bowls (not the most eco-friendly but it sure does save time on clean up.) If you want a more re-usable option, I LOVE these paint trays.
Fill a tall cylinder container with hot soapy water (a recycled yogurt tub works great) and as kids are finished with their paint brushes, plop them in and let them soak to prevent having dried paint stuck to the bristles. If you're limited on time, you can always come back to clean the brushes later.
Keep baby wipes handy for quick clean-up of paint-splattered noses and foreheads.
Get your hand-washing station ready with warm soapy water. Either fill a sink or use a large plastic bowl. Don't forget an old hand towel!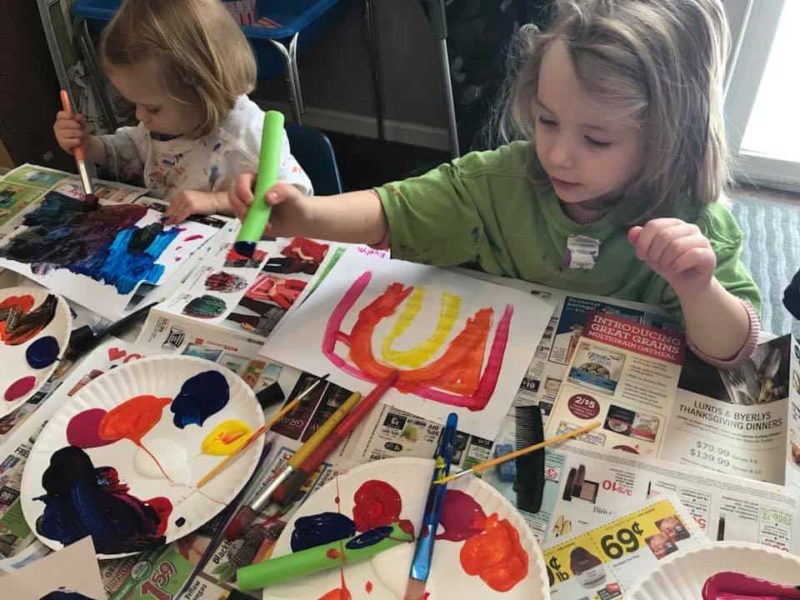 LEARNING THROUGH ART
Never underestimate all that can be learned through creating beautiful things through art!
When children are allowed to use and explore the materials freely, a whole range of skill development is in motion! Just to name a few…
spatial thinking
turn taking
fine motor development
color recognition
stress management
communication skills
MaryAnn F. Kohl shares in her article that, " Children express themselves through art on a fundamental level. Sometimes their artwork is the manifestation of that expression, but more often, the physical process of creating is the expression. "
BENEFITS OF FINGER PAINTING FOR TODDLERS & PRESCHOOLERS
Including all skill development listed above when kids are allowed to create art in early childhood, bringing out the finger paints for toddlers and preschoolers shouldn't be overlooked either.
A paintbrush is nice, but allowing a child to use their hands to move paint around on a canvas or piece of paper provides an unbelievable sensory experience.
Plus, it's nice for kids who are not quite equipped to hold a paintbrush which requires some skill in and of itself.
Just keep close by as toddlers like to 'explore' with paint in ways you may never see coming…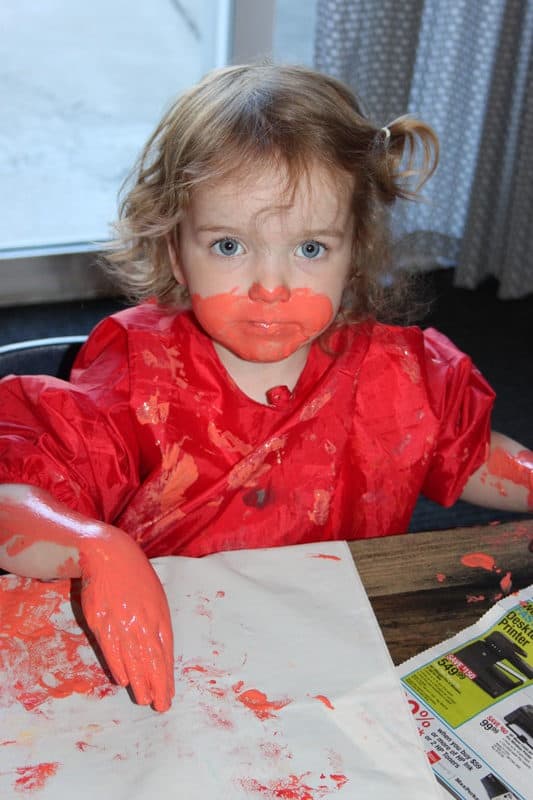 BEST ART SUPPLIES FOR 3 YEAR OLDS AND UP
I've tried lots of different brushes and tools over the years with toddlers & preschoolers. I've tried really hard to think outside the box.
PRO TIP: Make a trip to the Dollar Tree and fill your basket with all sorts of crazy things that could be used to move paint around:
hair combs
hair curlers
toothbrushes
sponges
car-cleaning mitts
marshmallows
tiny erasers
plungers
mini brooms
bouncy balls
bath mitts
forks/spoons
matchbox cars
FAVORITE ART SUPPLIES FOR KIDS I HAVE PURCHASED
The Empowered Provider is a participant in the Amazon Services LLC Associates Program, an affiliate advertising program designed to provide a means for sites to earn advertising fees by advertising and linking to amazon.com.
Paint Smock – No link listed here; have kids bring an old t-shirt to put over their clothes.
GREAT IDEAS FOR PROCESS ART FOR PRESCHOOLERS
Once your creation station has been prepped and the materials have been laid out, call over one, two or all of your kiddos and offer them a chance to paint. Check out this painting on foil project or these tulip fork paintings along with a few more of my favorite easy painting ideas for kids below:
PAINTING ON AN EASEL
An easel is a space-hog whether you own a 1, 2, or 3-sided one. However, I am still an advocate for this piece of art furniture because it allows kids to try out painting and drawing with a difference perspective than when seated at a table.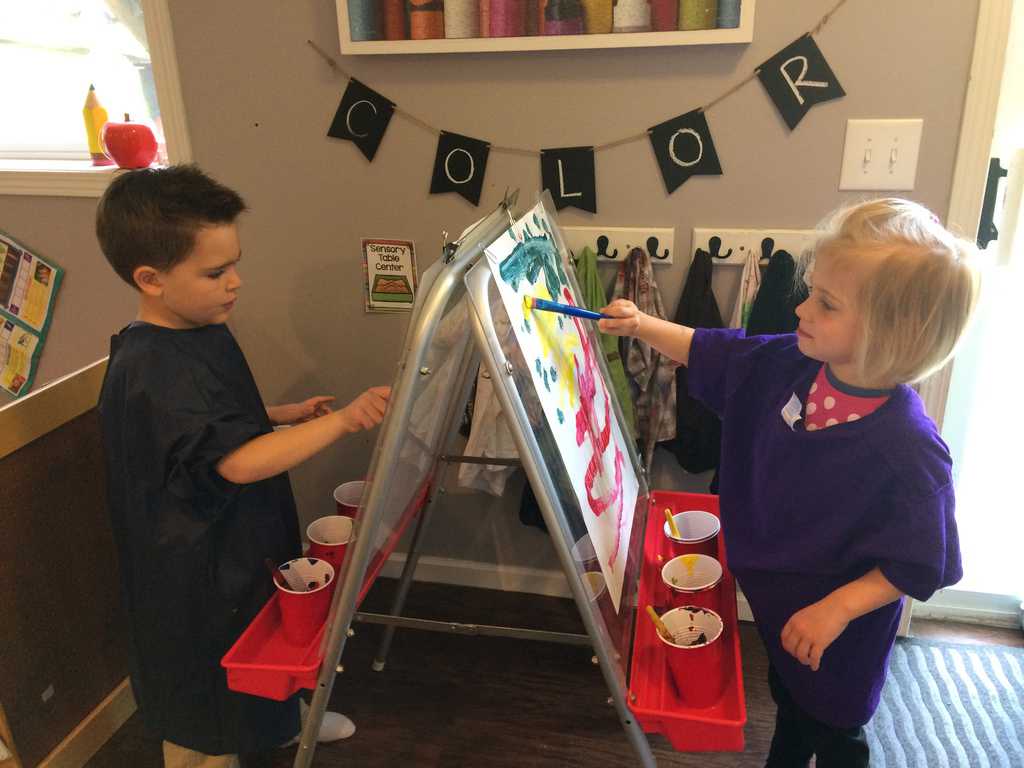 Hang their finished work as though it is worthy enough to be hanging in a museum!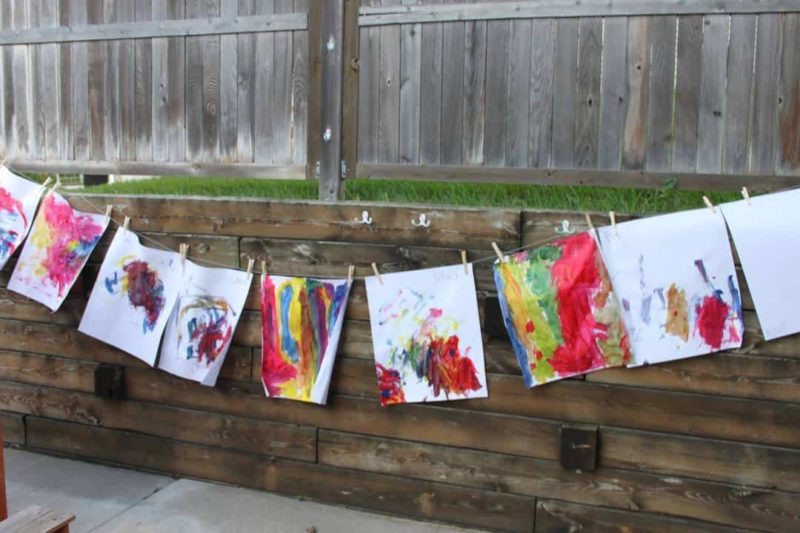 ---
BALLOON PRINTS
Try this activity on a special celebration day or a birthday or whenever you feel like generating lots of smiles, fun and laughter!
Supplies You Will Need:
BALLOONS
PAPER PLATES
WASHABLE TEMPERA PAINT
WHITE CONSTRUCTION PAPER
Preparation & How-To: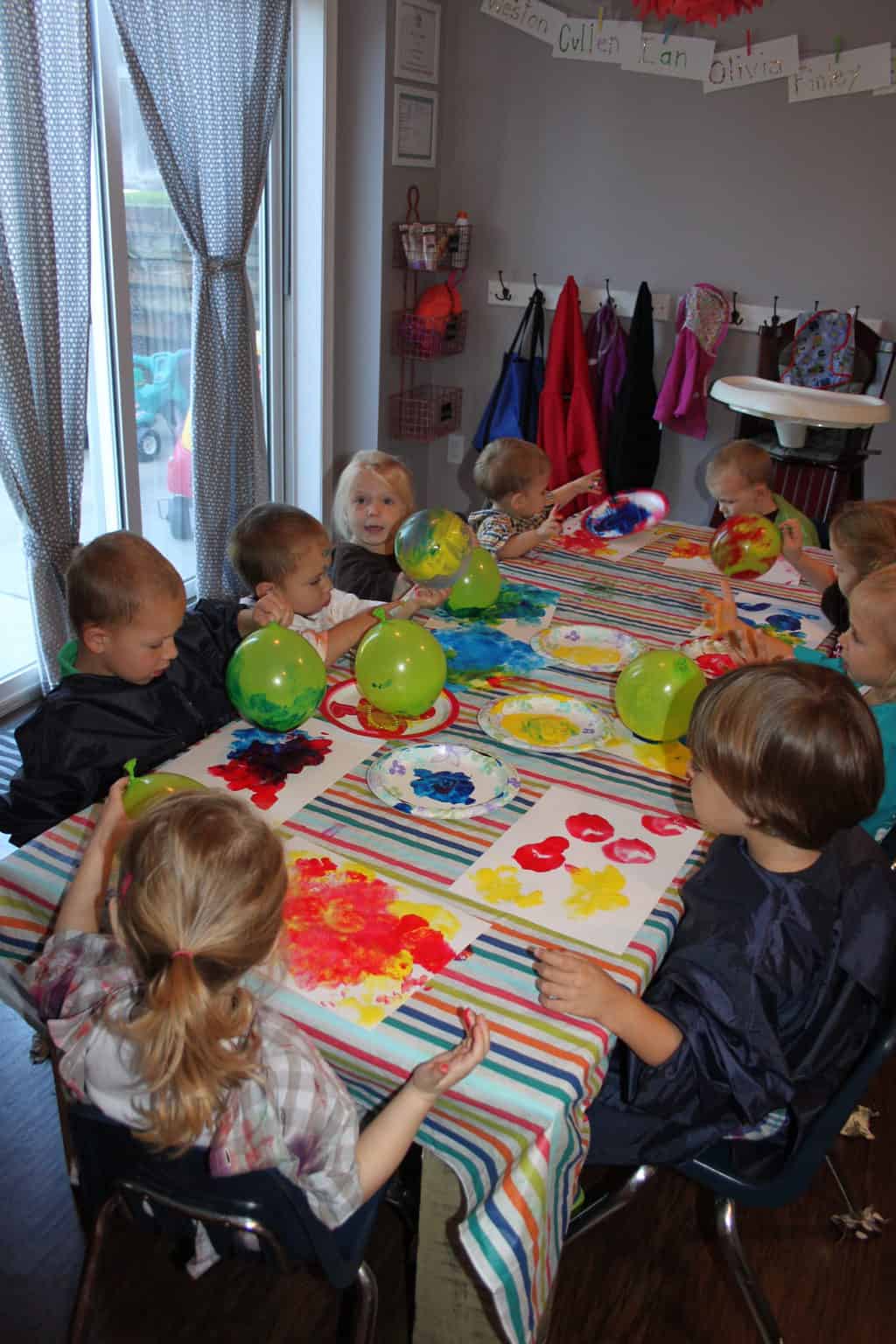 Prepare your paint space.
Apply a small puddle of paint to the paper plates (one color per plate)
Fill balloons about half way. (Bigger balloons will be harder to hold).
Demonstrate how to make balloon prints on the paper.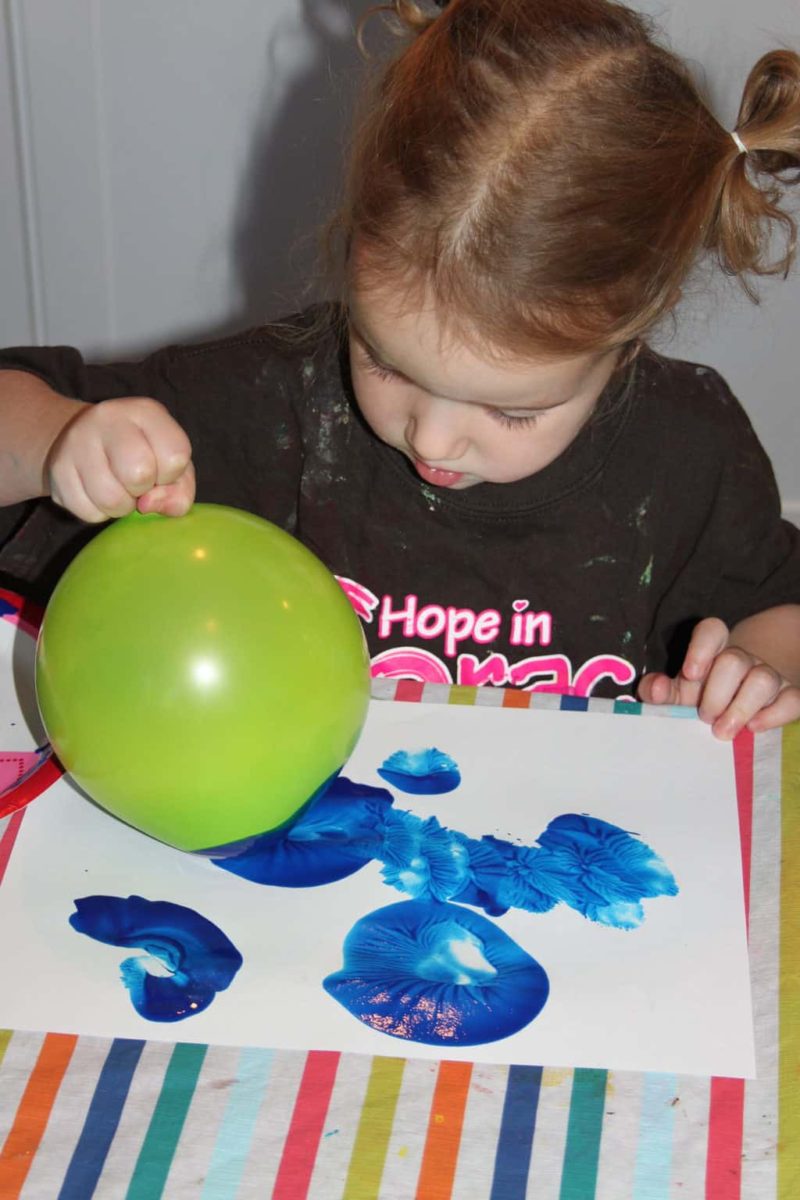 IMPORTANT CLEAN-UP TIP!
Do yourself a huge favor and pop the paint-covered balloons outside as the paint tends to splatter about when the balloon pops!
(I may have learned this the hard way.)
Make sure you share moments from these great activities with your clients! I've got some great tips listed here that will boost client satisfaction in no time! A great marketing tip!
---
PAINT A BRANCH TOGETHER
No, not Poppy the Troll's boyfriend.
Like a real stick from outside.
Grab a big ol' branch with lots of twigs (but no leaves).
Anytime there is an opportunity to combine nature with art, I'm all over it! I love how this activity provided a beautiful sense of community as all of the kids were engaged within the process at the same time.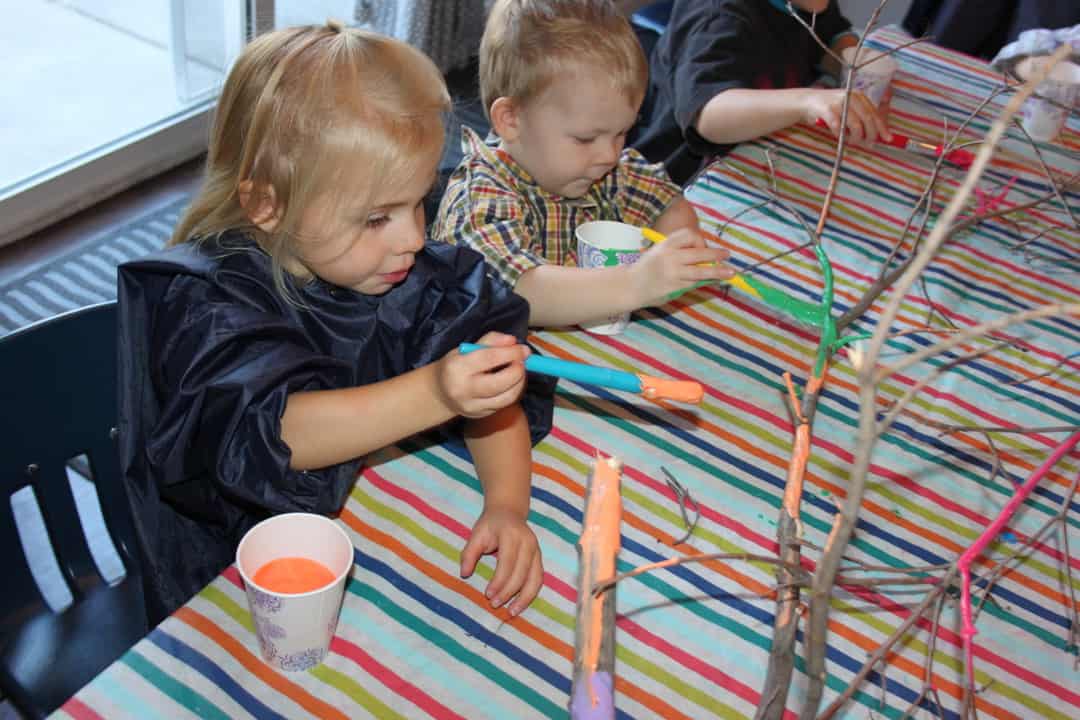 Supplies You Will Need:
PAPER CUPS
PAINT BRUSHES
WASHABLE TEMPERA PAINT
A LARGE STICK WITH MULTIPLE BRANCHES
POM-POMS (optional)
GLITTER (optional)
Preparation & How-To:
Prepare your space a table cloth or newspaper.
Lay a giant stick down the center of the table.
Fill paper cups with various colors of paint. FUN TIP! Add white to the colors to create a non-traditional, pastel look!
Let the kids paint the stick!
If you're feeling fancy, sprinkle some glitter over the top of the wet paint.
Once the stick is dry, use liquid glue to add pom poms or jewels, etc.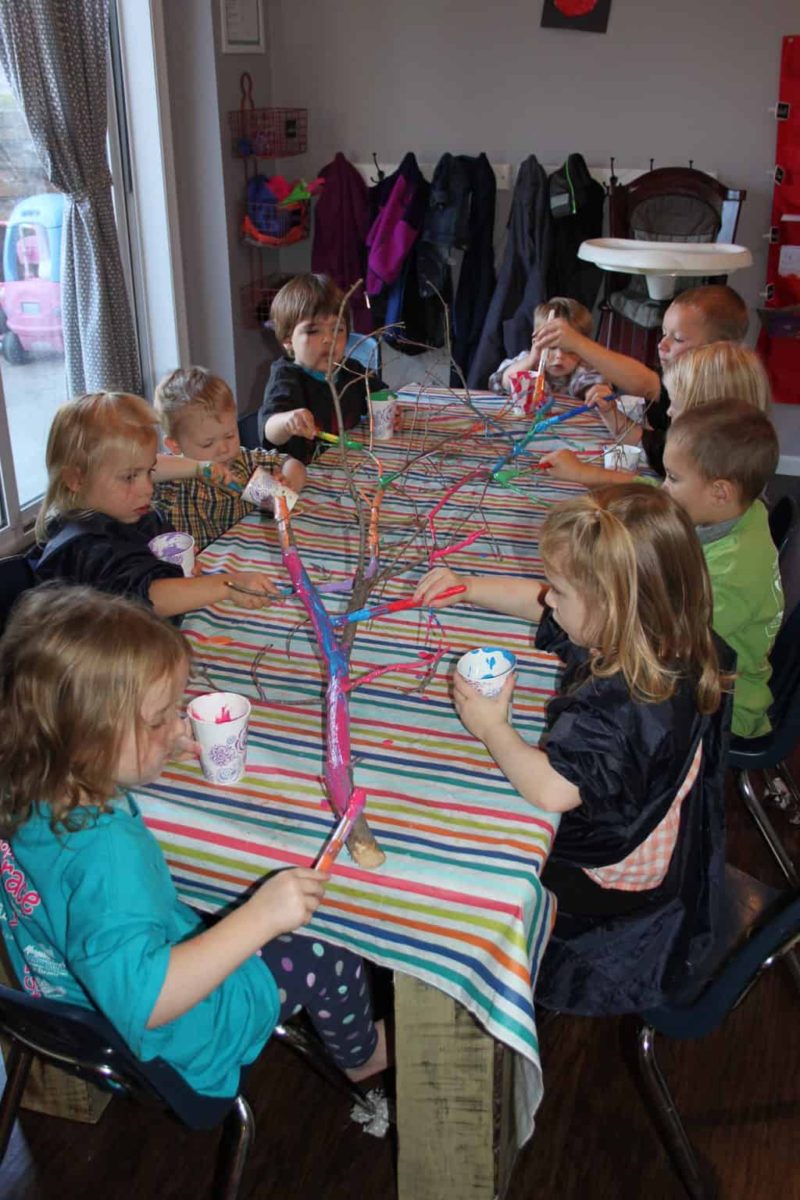 This will be a beautiful piece! Use fishing wire to hang the stick from the ceiling or mount on the wall.
While we're on the topic of teaching kids how to use supplies?
Try these great ideas!