Young children are eager to learn scissor skills development. Most young kids pick up this sharp cutting tool with great confidence but often grow frustrated quickly due to the large amount of focus and coordination that is required to operate a scissors effectively.
Pressing pause and taking time to teach young children how to use the tools properly boosts confidence and also makes your supplies last longer!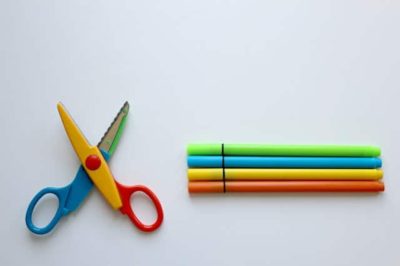 HOLDING SCISSORS: THE BEST TIP EVER
If you have ever watched a young child attempt to cut a piece of paper, you may notice they immediately turn their wrist downward with their thumb pointing down to the table.
Holding a scissors downward is very common and can be habit-forming. Once a child becomes comfortable with holding the scissors upside down while cutting, it's much more difficult to coach them to turn their wrist upward.
The Empowered Provider is a participant in the Amazon Services LLC Associates Program, an affiliate advertising program designed to provide a means for sites to earn advertising fees by advertising and linking to amazon.com.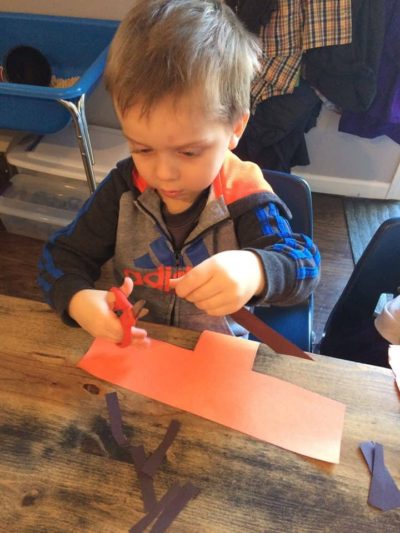 Stay near the child when fostering scissor skills development so you are able to correct their form as they experiment with cutting paper.
THE BEST SCISSORS TRICK EVER:
Using a washable marker, draw a smiley face on the child's thumb nail. Show the child that when their wrist is turned the correct way, the smiley face will be looking up and smiling at them! When they are cutting, they must always be able to see the smiley face.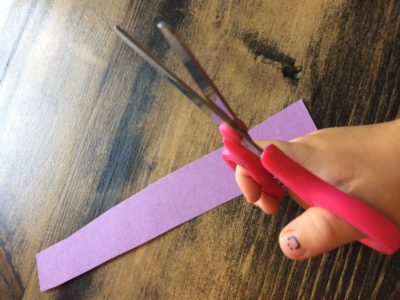 TRAINING SCISSORS
There are oodles of products on the market made to help kids develop scissor skills!
Here are some of my favorites:
LOOP SCISSORS This scissors is great for kids who are just starting out or who struggle with regular scissors.
PLAY-DOH SCISSORS Get a whole batch of these. They are stress-free because they don't have a blade!
FISKARS BLUNT-TIP SCISSORS For kids who are ready to cut and construct, these are the most comfortable and easy to use.
WHY THE LOOP SCISSORS IS THE BEST TRAINING SCISSORS
The LOOP SCISSORS is my all time favorite training scissors for kids who can't quite figure out how to hold a traditional scissors but are eager to cut paper.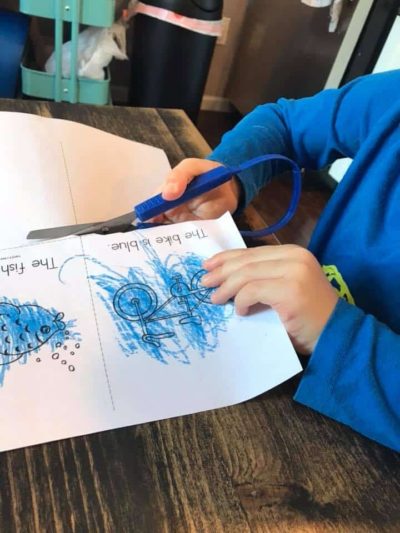 The LOOP SCISSORS allows a child to practice the form and general motion of cutting and gives them a greater chance at success. Greater success equals motivation to keep trying. With the loop scissors, a child doesn't need to worry about which fingers go in which holes. The grip requires a simple open hand grasp.
Keeping frustration to a minimum is key when helping kids learn how to cut.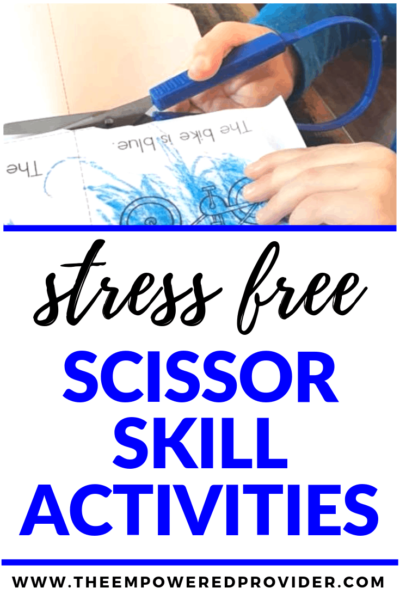 SCISSOR SKILLS ACTIVITIES
Here are a few scissor skills activities you can try with your group to introduce scissors.
CUTTING AT THE SENSORY TABLE
Tip #1: If you don't have a sensory table, you can use an under-the-bed storage (shallow) Rubbermaid tub/bin.
Tip#2: If your program consists of toddlers and preschoolers, you will need to be mindful of where this activity is located. Only kids who are showing signs of scissor-readiness should be allowed to work at this cutting station.
Supplies You Will Need:
SENSORY BIN (or shallow rubber-maid bin)
CONSTRUCTION PAPER SCRAPS
KID-FRIENDLY SCISSORS
Preparation & How-To:
Place varying sizes and shapes of colorful construction paper in your sensory bin.
Add kid-friendly scissors.
Allow kids to visit the 'cutting center' to explore the task at hand.
Kids are invited to simply snip the pieces of paper to practice their scissor skills.
The bin will catch the mess!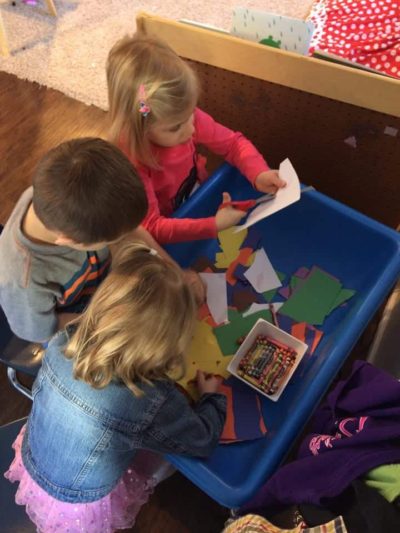 ---
CONFETTI FACTORY
This activity is a great way to allow kids time to practice a new skill in a way that is fun and meaningful!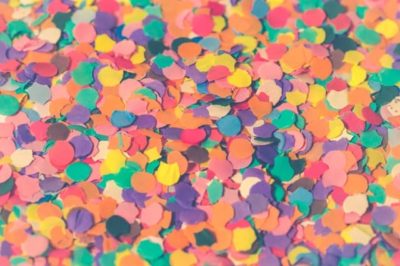 Supplies You Will Need:
COLORFUL PIECES OF CONSTRUCTION PAPER
KID-FRIENDLY SCISSORS
SNACK-SIZE ZIP LOCK BAGS (one for each child)
"HOMEMADE CONFETTI" LABEL (attach to the sealed baggie)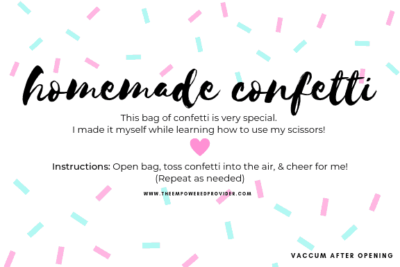 Preparation & How-To:
Set out your supplies. (Lay strips of colorful paper down the center of the table.)
Make an announcement to your group that you have a very special confetti "recipe".
Call out the colors you will need and ask the kids to find them on the table. "Do we have everything we need for our confetti recipe?"
Let the kids start cutting up tiny snips of paper.
When you have a good batch of tiny bits, have each child fill a snack-size Ziploc bag of 'confetti' to take home.
Attach the cute printable to each baggie and label with the child's name.
Send home the homemade confetti. Do you use your activities to market your program? Here is a great marketing tip!
---
CUTTING PLAY-DOH
One of the best ways to allow young kids to freely practice cutting is to purchase some dough scissors and let them cut-cut-cut!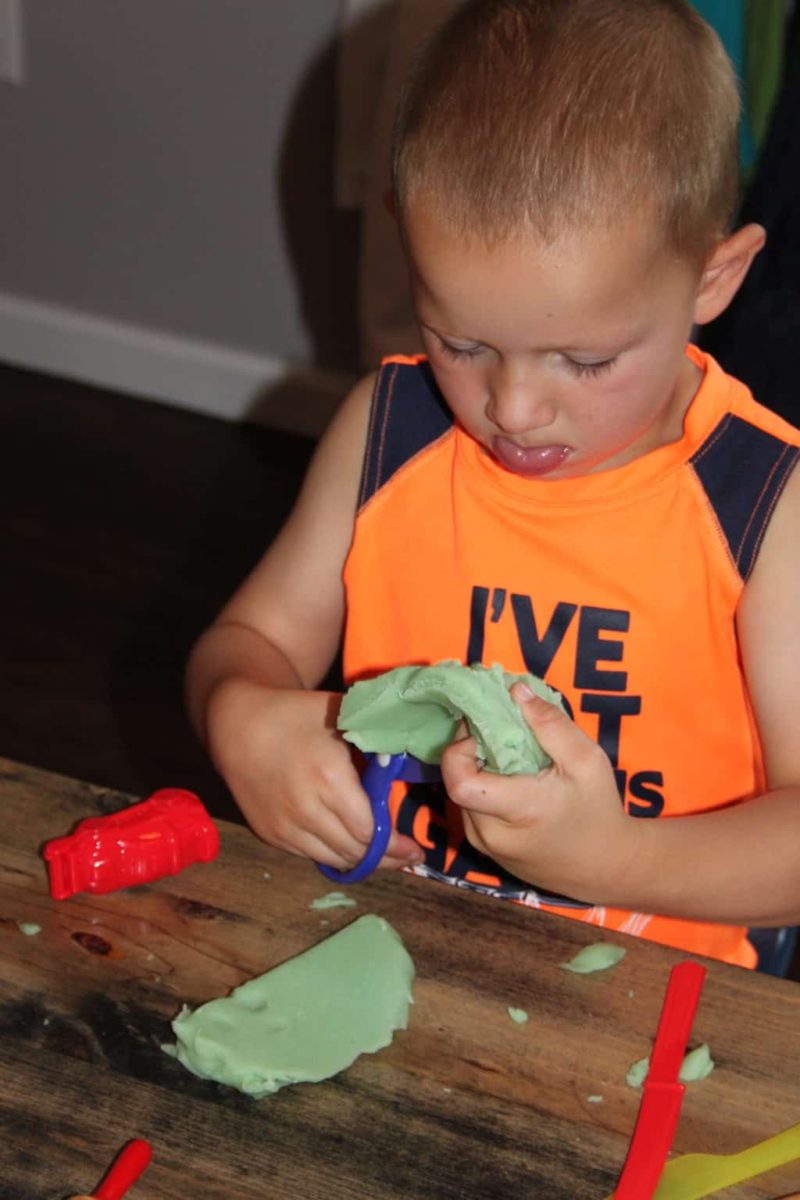 Help kids roll out play-doh snakes (skinny rolls of dough).
Hold the play-doh snake so it is dangling in front of them and allow them time to practice snipping the 'snake' into tiny pieces.
Kids love this!
Click HERE for my favorite homemade play-doh recipe!
While we're on the topic of teaching kids how to use supplies?
Try these great ideas!