There are oodles of fire safety activities for preschoolers! Most early childhood programs take time to teach fire safety because it's important for young kids to know what to do in the event of a fire.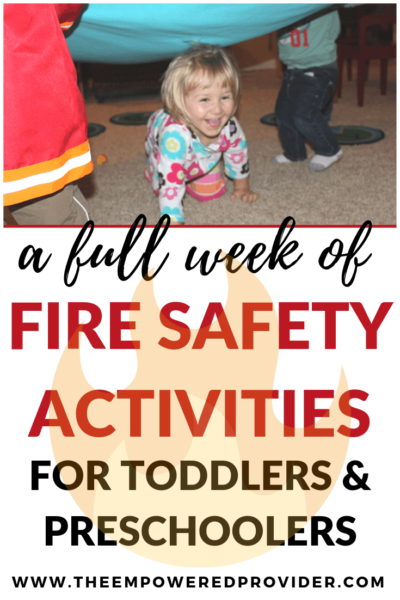 HISTORY OF FIRE PREVENTION WEEK
According to the National Fire Protection Association (NFPA), Fire Prevention Week falls on the Sunday through Saturday period in which October 9th falls.
Wikipedia states, Fire Prevention Week commemorates the Great Chicago Fire of 1911. President Calvin Coolidge proclaimed Fire Prevention Week in 1925 as a way to keep the public informed about fire safety and prevention.
TEACHING FIRE SAFETY TO PRESCHOOLERS
Go beyond the required fire drills and get kids excited to learn more about a topic that is so critical. The most important thing you can do when planning your fires safety week is to make sure each activity is meaningful to the kids in your group.
4 Key Concepts to Teach Preschoolers About Fire Safety
What do at school or home if there is a fire.
Understand the dangers of fire.
Know the role of a fire fighter and how they are helpers.
Understand the difference between hot and cold.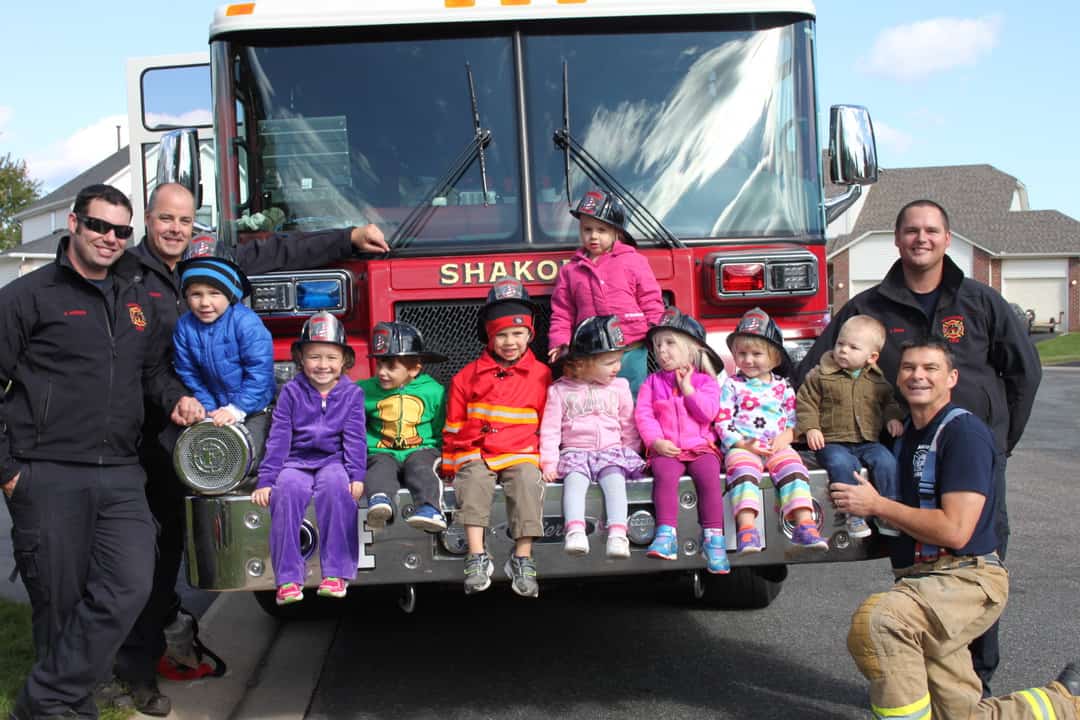 The Empowered Provider is a participant in the Amazon Services LLC Associates Program, an affiliate advertising program designed to provide a means for sites to earn advertising fees by advertising and linking to amazon.com.
THE BEST WAY TO TEACH FIRE SAFETY TO PRESCHOOLERS
There are so many ways to bring fire safety lessons to life! Many of the ideas shared in this post are easy, simple and affordable!
Try to incorporate as many interactive experiences as you can into your lesson plan; making sure to sprinkle in plenty of time for dramatic play. Kids LOVE to pretend to be a fire fighter!
FIRE SAFETY EXPERIENCES: Get to Know Your Local Fire Fire Fighters
Contact your local fire department to inquire about setting up a time for a fire fighter to visit your group. If you transport children, perhaps you could make a visit to the fire station?
If you have a very small group of kids, you may want to consider asking another program in your neighborhood or homeschooling families to join in on the fun.
Fire fighters are typically pretty busy with in-school visits during the month of October, so make sure to call in advance.
Extension: Take a group photo and let the kids decorate a picture frame from the dollar store with fire stickers.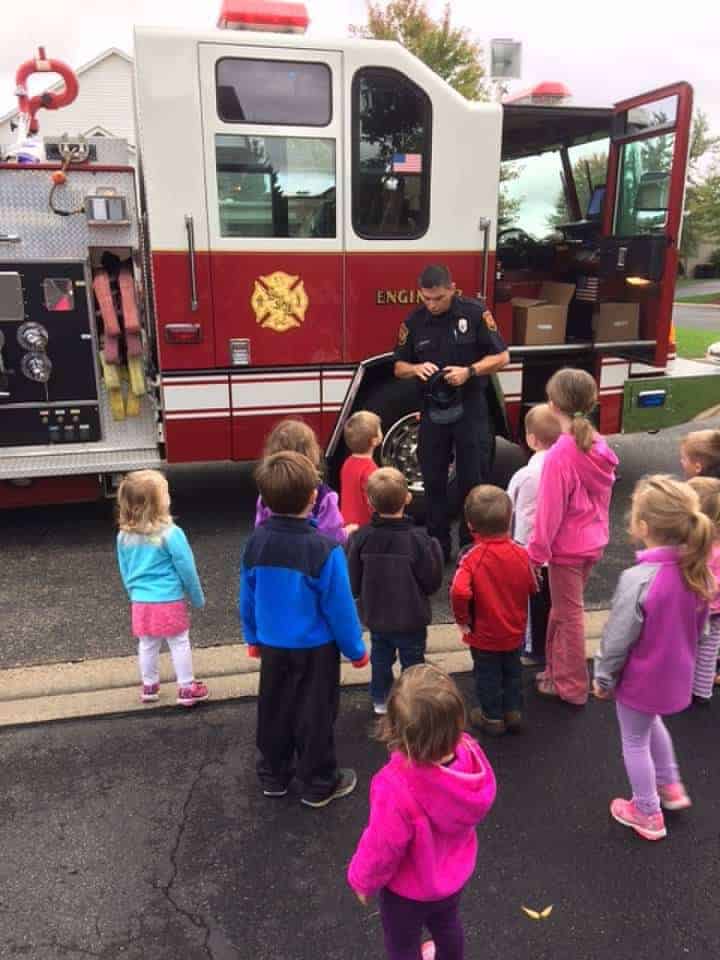 Fire Safety Activities: Character Building
A great way to build up character traits in kids is to demonstrate through action. Baking a special treat and/or drawing a picture for your local fire station is a perfect way to learn about the importance of showing gratitude to others.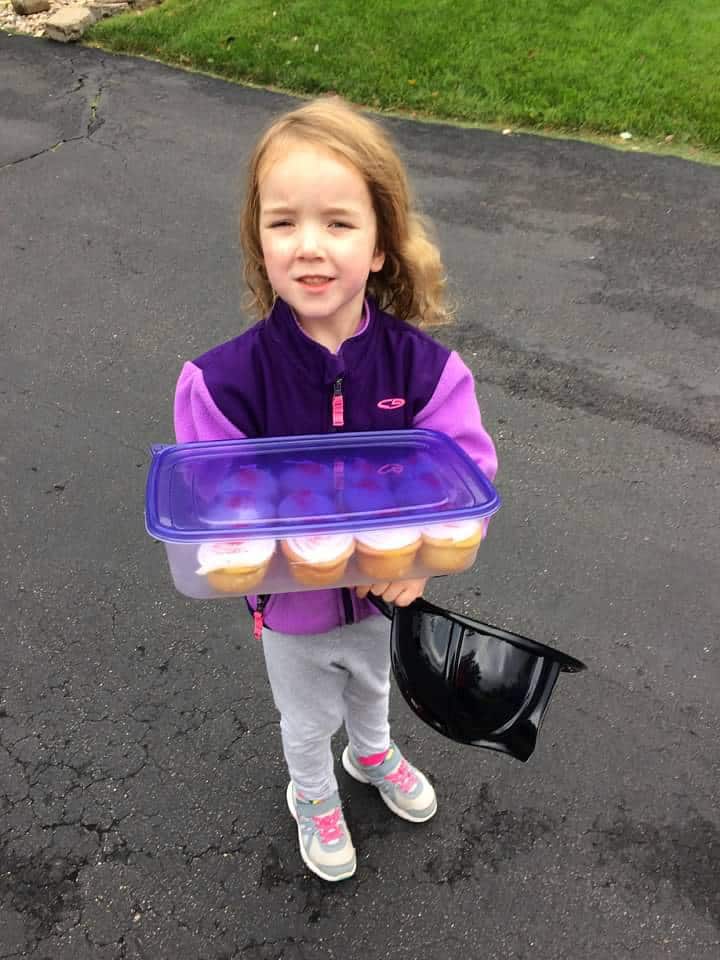 Marketing Tip! Include a business card with your deliver to promote your child care program.
Fire Safety for Preschoolers: Practice Home and School Fire Safety Drills
Use this preschool-friendly take home sheet to help kick start a discussion at home between the child and their parent. It will allow kids to locate smoke detectors and fire extinguishers in their home and to coordinate a family meeting place if there were a fire.
TIP: Pass out this printable to your group after you have had a few discussions about fire safety, smoke detectors, fire extinguishers, and practiced how to Stop-Drop-and-Roll. The child will take this sheet home and will feel more like an 'expert'.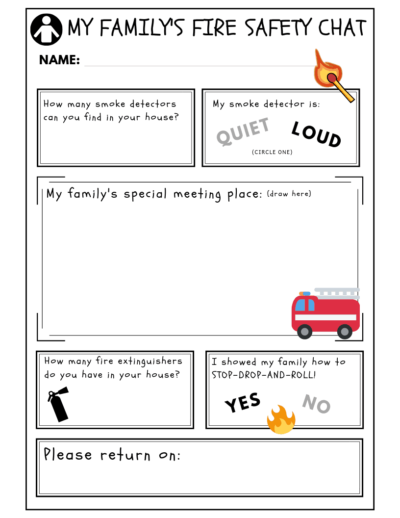 ---
Circle Time Activities for Your Preschool Fire Safety
1. Practice Stop-Drop-and-Roll
The classic Stop-Drop-and-Roll drill is loved by all kids. Have a little fun and demonstrate what not to do if their clothing were to catch on fire. Let each child practice this drill.
2. Practice Staying Low When There is Smoke
Talk about why it's important to stay low if a room or hallway is full of smoke. Use a giant piece of black or white fabric from your local craft store to bring this concept to life.
Ask the kids to each grab a corner of the fabric and wave it around. The other kids can take turn staying low and crawling under the 'smoke'.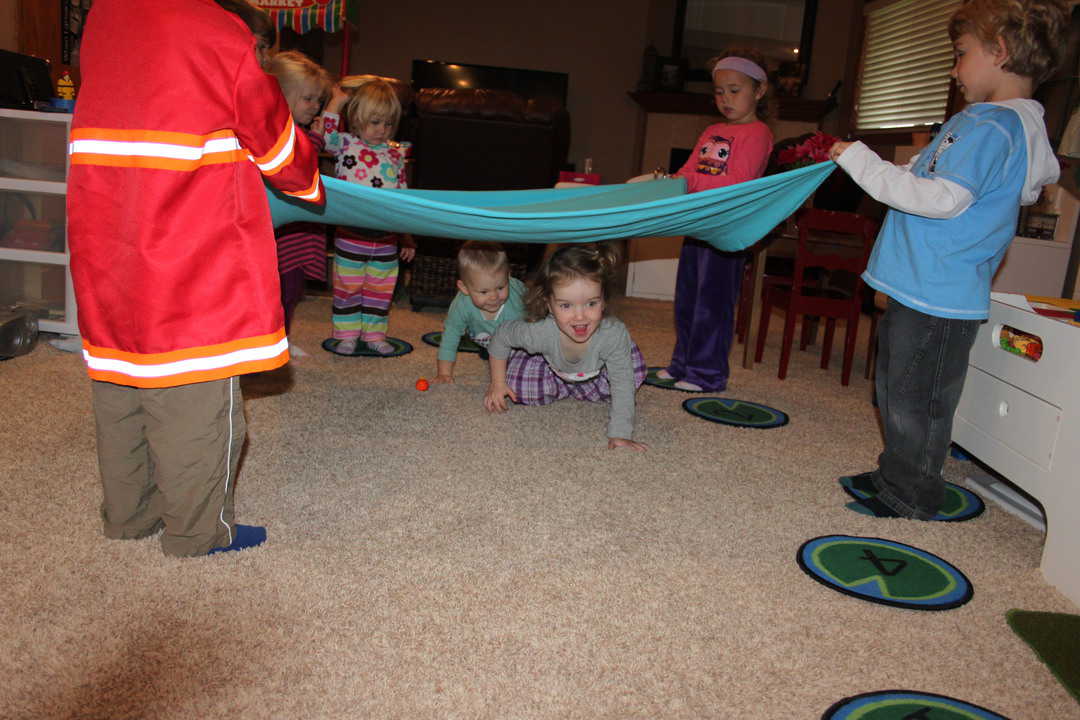 ---
EASY FIRE SAFETY CRAFTS FOR PRESCHOOLERS
1. Make a Fire Truck Using Pre-Cut Shapes.
Pre-cut typical shapes kids can use to build a fire truck. Keep it simple! Make enough red rectangles, black circles, white strips for ladders, small yellow circles for lights, etc.
We usually read a book about a fire truck first or watch a quick video of trucks in action. I used this handy dandy circle punch to mass produce the wheels.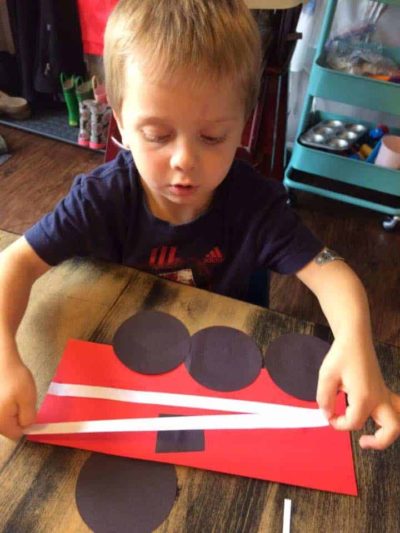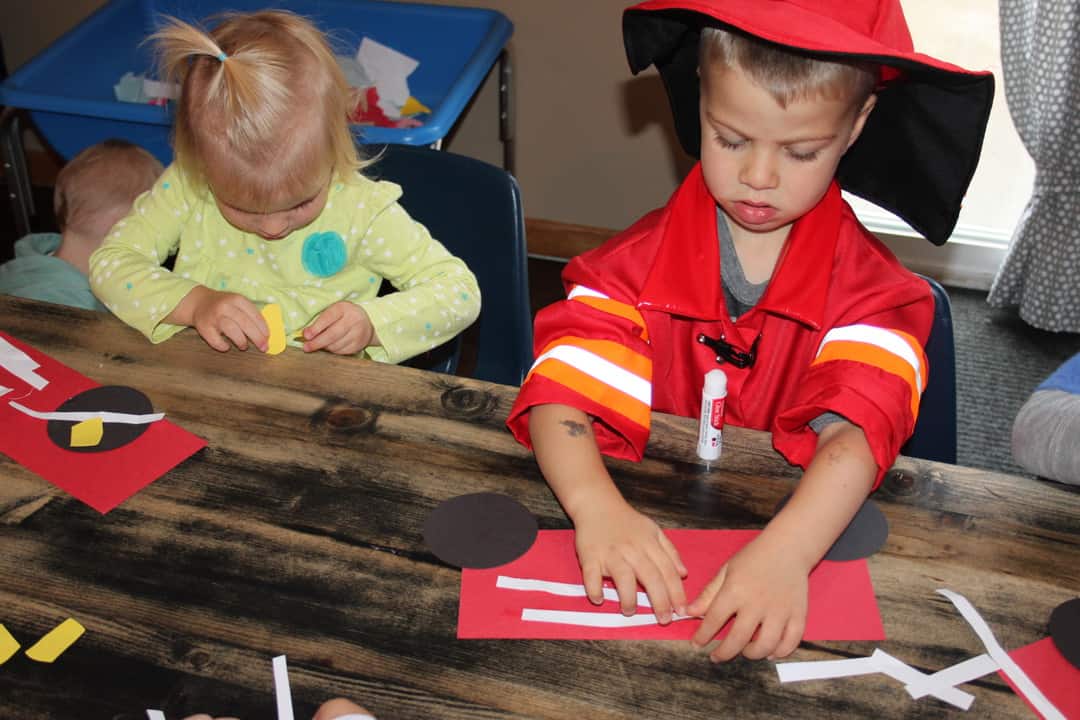 May I suggest one quick tip? Do NOT create a sample for them to replicate. Allow each child enough time and freedom to create their own version of a fire truck. The results will be so much more authentically awesome!
Some kids' interpretation of a firetruck will include 17 wheels on one truck…others will have the insight to use your long white strips of paper to build a ladder.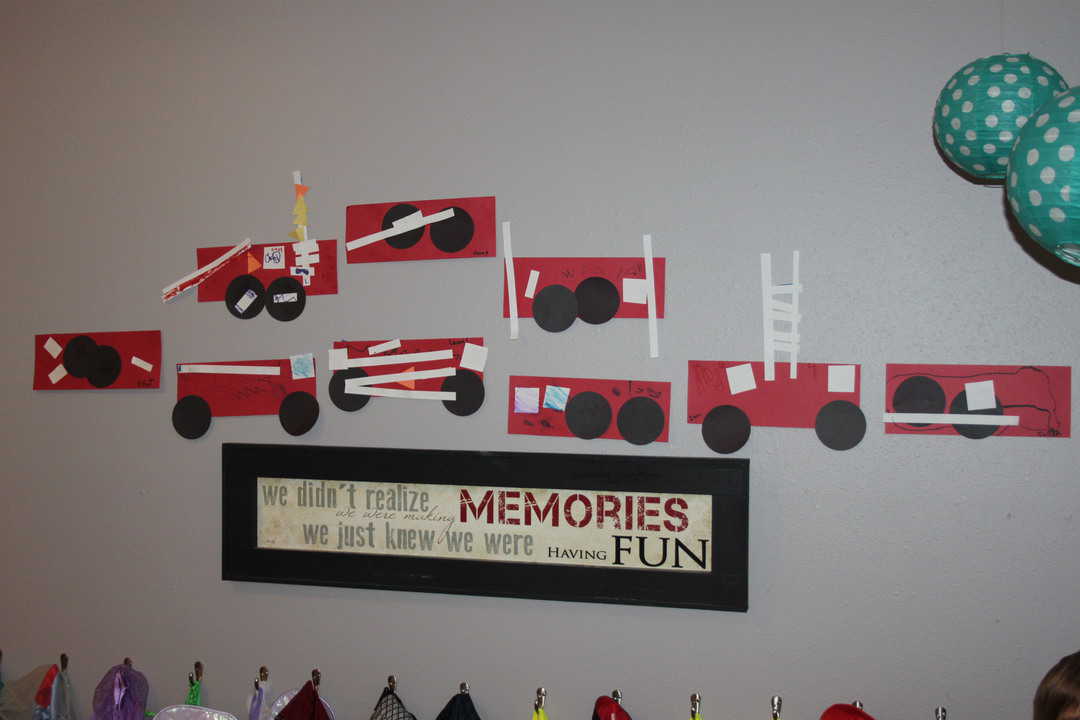 2. Build a Ginormous Fire Truck!
Round up a large cardboard box and let the kids paint it bright red! Add some accessories when it dries and put this piece in your dramatic play space for some more fire fighter dramatic play.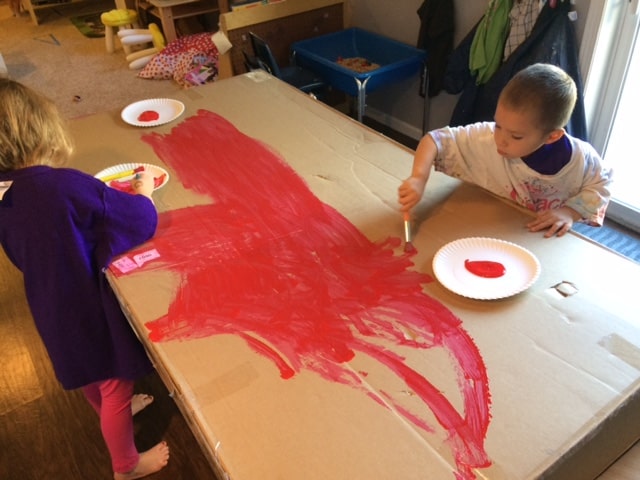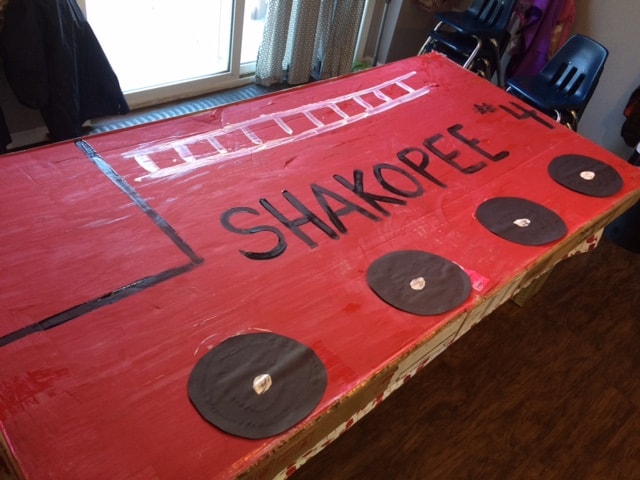 3. Make Fire Hats!
Kids can practice scissor skills by cutting thin strips of red, yellow and orange paper.
You'll have to be the head-gear assembler; sizing up each black band to fit around the various head sizes… I assure you…it will be worth the smiles as they bounce around with delight with the little pieces flopping atop their heads.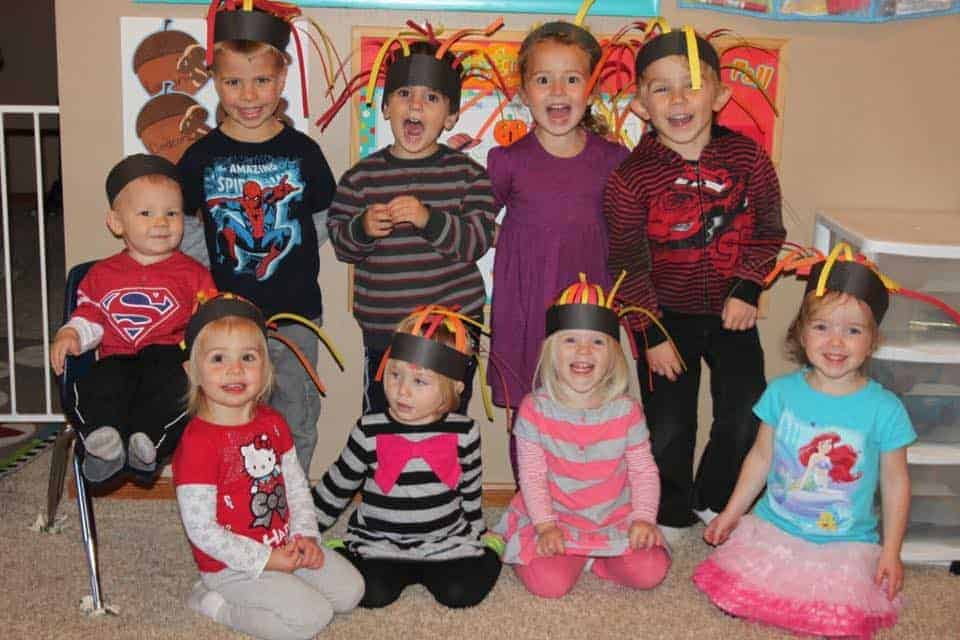 ---
Preschool Fire Safety Science Activities
1. Build Fire Towers Using Red Solo Cups.
This activity will take a little bit of prep on the front end, but if made well, you can pack up this homemade building activity and save it for years to come.
Use red solo cups and write the letters F-I-R-E on a few of them to add a little bit of literacy fun to the game. On other cups, tape a flame; while the thers can be left blank.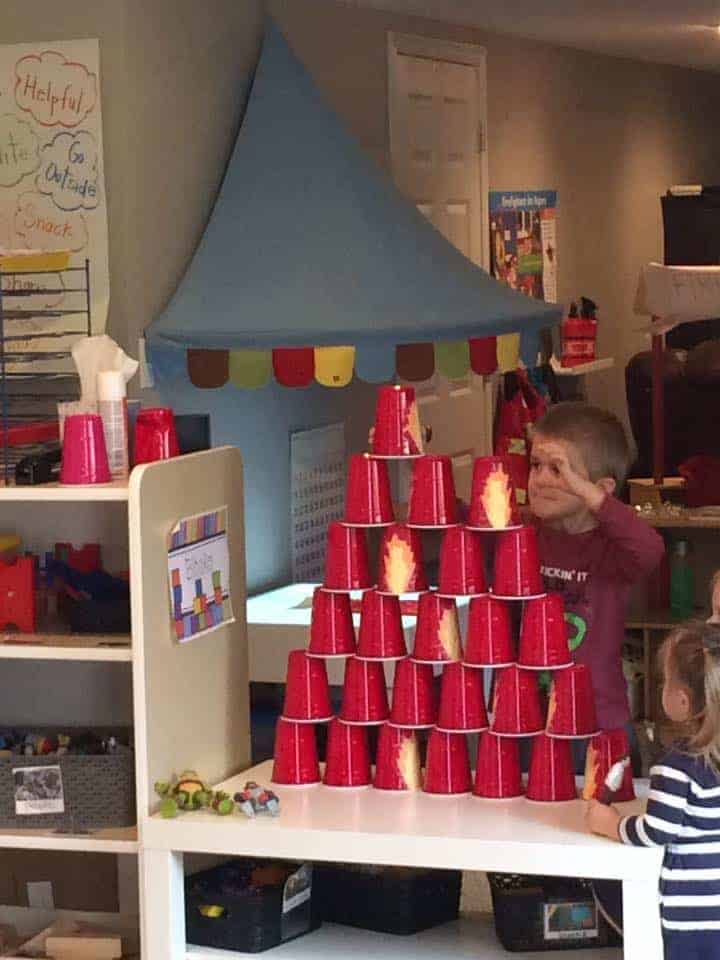 Encourage building with these cups–and of course watch for some serious ninja style punches and kids to knock the towers over.
2. Create fire truck ladders using PVC pipe.
Hang up photos of real trucks and ladders in your building block space to help spur some really fantastic creations! It's incredible to watch kids work together to build their own fire truck ladder.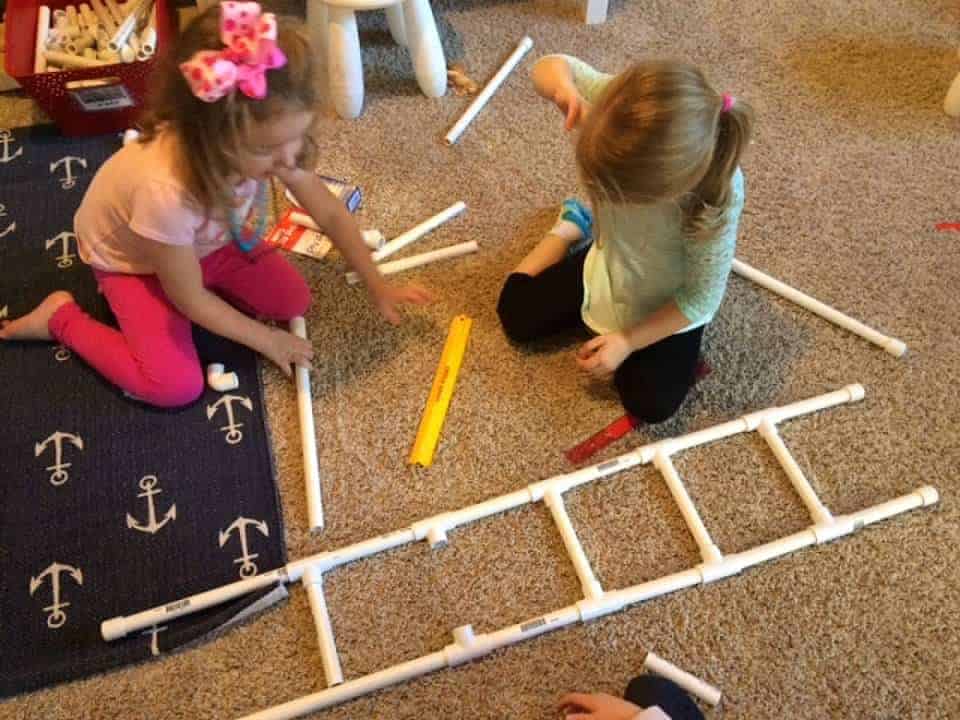 Preschool Fire Safety Dramatic Play Ideas
1. Create a burning building scene.
A wise early childhood educator knows to never throw out cardboard.
My husband could win an eye-roll contest each time he'd find a large cardboard box in our garage or in our storage closet. He'd say, "Can I throw this out?" and I jump to the box's defense and shout, "No! I'm going to be using that for something…" (not always sure what for…but knowing a person can never just find a large cardboard box when they actually need one)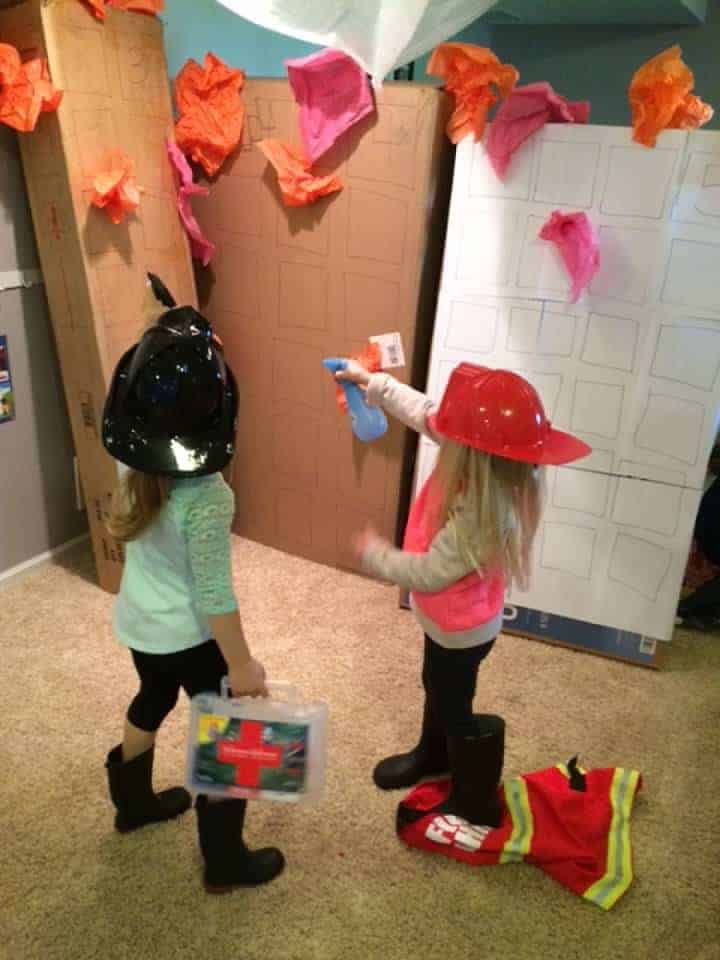 Draw squares for windows and create little slits in the box to stuff pieces of red, yellow and orange tissue paper into to look like flames.
2. Add Fire Fighter Gear and Props to Your Dramatic Play Space.
Fire Fighter Helmets
Rubber Boots
Recycle parts of a black garden hose
Empty spray bottles
First Aid Kits/Doctor Kits
Telephones
Books about Fire Fighters
Fire safety scavenger hunt for preschoolers
Talk about how "hot" and "cold" are opposites. Then make a list of things in the house that are hot and cold. Talk about why it's not safe to touch a hot stove, etc.
Next, gather up some blue and red post-it notes (blue = cold, red = hot) and go on a hunt throughout your space and let kids stick a blue post-it on things that are cold and hot.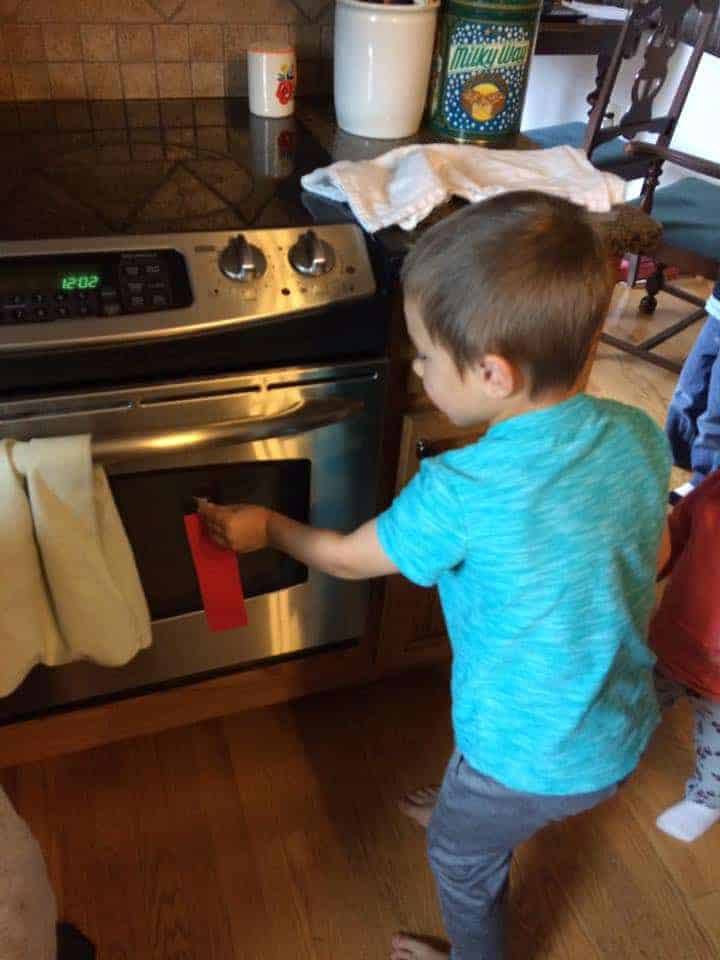 FIRE SAFETY BOOKS FOR PRESCHOOLERS
Another great book you can make for classroom can be found on Teachers Pay Teachers. Print, laminate and assemble for around $2.50.
PRESCHOOL FIRE SAFETY SONGS
Please leave a comment below if you have other ideas that you love for fire safety week or if you end up trying one of the above!