Drop those cheddar-colored fishies! It's time to spruce up snack time in family child care. In this post, I share daycare snack ideas as well as a fun activity to liven up how the kids in your group can be involved in this afternoon mini meal.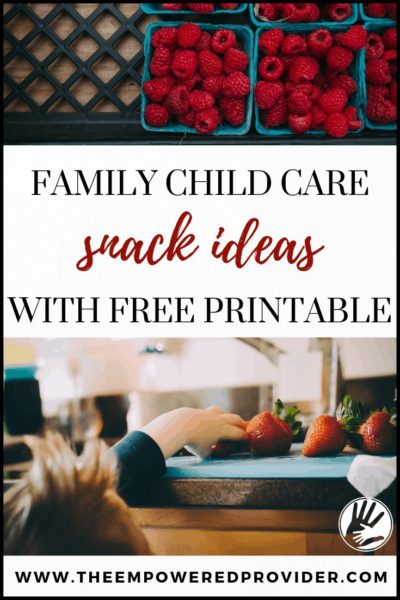 Use Snack Time To Connect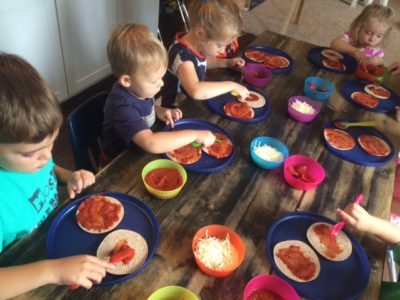 I remember the drill fondly:
You've had a long day with your crew and it's your last opportunity to gather together around the table and share in some good old fashioned toddler & preschool conversation over some crackers and a short glass of milk.
The little guys and gals wake up as you turn off the sound machine; with their pink cheeks and hair all askew. You rub their backs and ask them if they had a good sleep; while putting away their blanket and folding up their nap mat.
You change the diapers for those who need it and send the others off to use the potty and wash their hands.
Everyone gathers at the table and your goal is to their little bodies for the afternoon until they go home for dinner.
STUMPED AT SNACK TIME
It's okay.
We've all stood staring blankly in the pantry, trying to figure out what to feed the kids when they wake up from nap time.
Check out this list to round out your snack menu repertoire.
19 Daycare Snack Menu Ideas:
string cheese & apple slices
ants on a log
turkey/beef sticks with slices of cheese
cottage cheese with peach slices
sliced grapes and whole wheat crackers
pb & j circles (homemade Uncrustables!)
cheese quesadilla triangles with salsa
carrot sticks with hummus
Red pepper slices with guacamole
Whole grain chex mix and cheddar cheese slices
Graham crackers & applesauce
yogurt with watermelon slices
fruit smoothies & whole grain crackers
whole wheat bagel thin with cream cheese & cantaloupe
pretzel sticks with kefir smoothie drink
salami & provolone cheese roll-ups
Egg salad with Triscuit crackers
whole grain muffin with applesauce
pickle roll-ups (pickles wrapped in ham slices)
---
Snack Time for Toddlers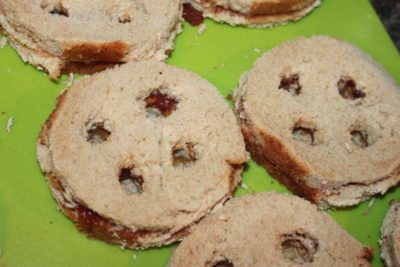 Be sure to adapt or substitute foods that may not be safe choices for toddler snacking.
You may need to slice up elements of your snack into tiny bite size pieces to make snack time safe for everyone.
Make Daycare Snack Time Fun
Snack Time Activity Idea #1
If you have school agers who return each summer, they too will rise up to the challenge of "snack helper". Younger kids can get involved as well:
Print the Snack Menu template (sample posted below).
Laminate it for durability. (If you don't own a laminator, you can slide this paper inside a sheet protector).
Using a thin Expo marker, write a snack menu option in at least 5 of the squares (one option for each day of the week you serve snack).
Choose a weekly snack helper.
Let the child choose the snack and have them either "x" it out or erase the menu option upon selection.
At the end of the week use a Magic Eraser to the menu items and marks and fill the menu in again with new items for the upcoming week.
---
Snack Time Activity Idea #2
Number the daycare snack menu ideas (write a #1-5,on each rectangle). Allow the snack helper to pull a number out of a hat/dish. This determines which snack you will be serving that day! A great way to sneak in some number recognition too! Boom!
A sample of a blank Snack Menu Template: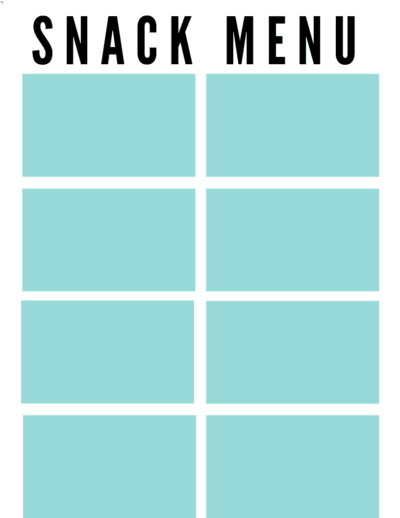 Here is what your daycare snack menu might look like a few days into your week: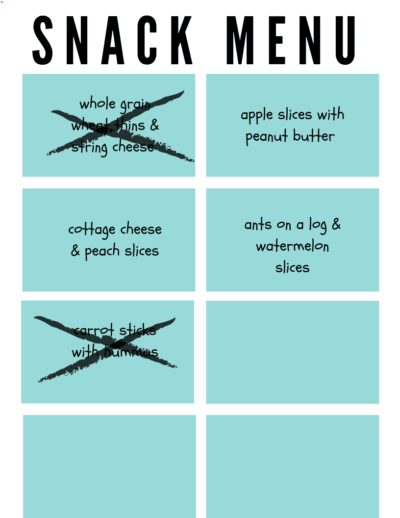 Happy snacking!
---