Finding easy science activities for preschoolers can be difficult. Each project should be meaningful and fun in order to facilitate the greatest amount of learning within the experiment.
In this post, I'm going to share an easy science activity for kids that will have your whole group giggling (and learning) as they figure out how to make the yellow glove stand tall.
Try this idea now or save it to your science for kids Pinterest board!
Save to Pinterest for later!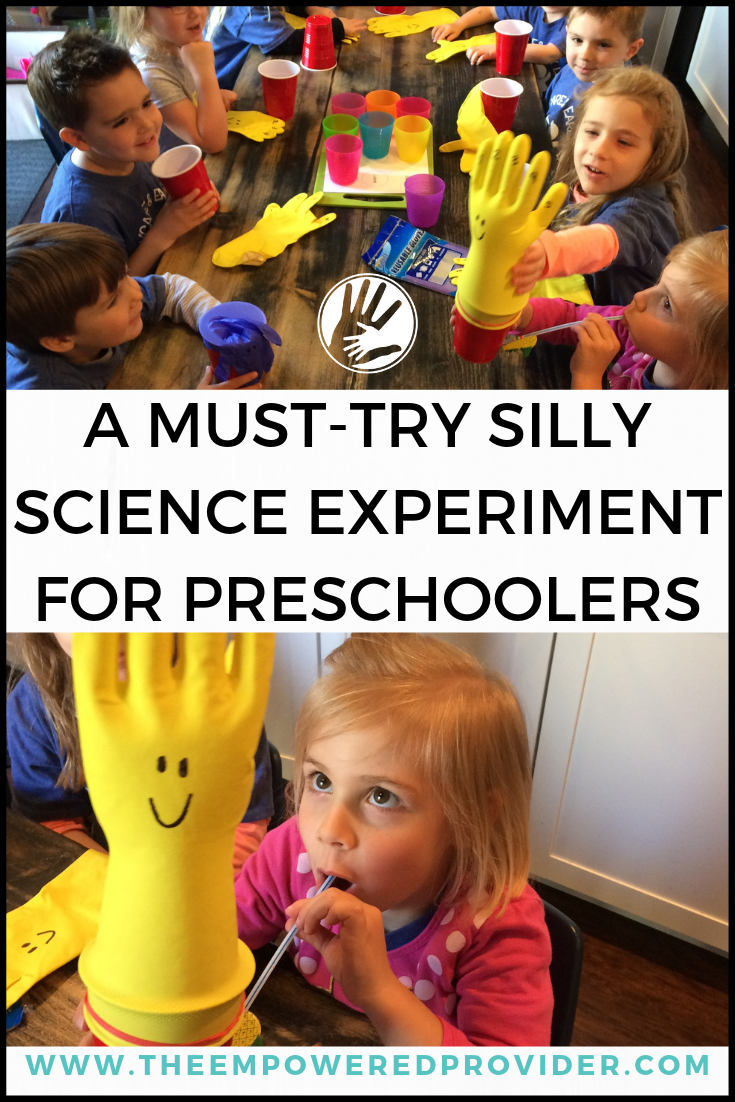 Are Science Experiments and Activities Easy to Do With Young Kids?
The short answer: No.
Science was admittedly the most difficult subject to tackle in family child care program. I refused to do anything that wasn't meaningful for the toddlers or preschoolers in my group.
Most science activities require adult assistance with the child simply looking on to see the results. This approach produces a very low level of engagement. However, it doesn't have to be this way and it isn't reason enough to stay away from doing science projects with kids. When a child is having fun, they are learning.
Why Science Activities are Important for Preschoolers
Science can meet the needs of natural curiosities in young children. While reading and literature are found in books and posters, science is all around us.
Trinity Grammar School highlights 5 benefits of science in early childhood:
Instills a love of science
Develops life-skills
Aids Literacy & Language Development
Encourages Inquiry & Critical Thinking
Helps Form Independent Opinions and Develop Decision-Making Skills
---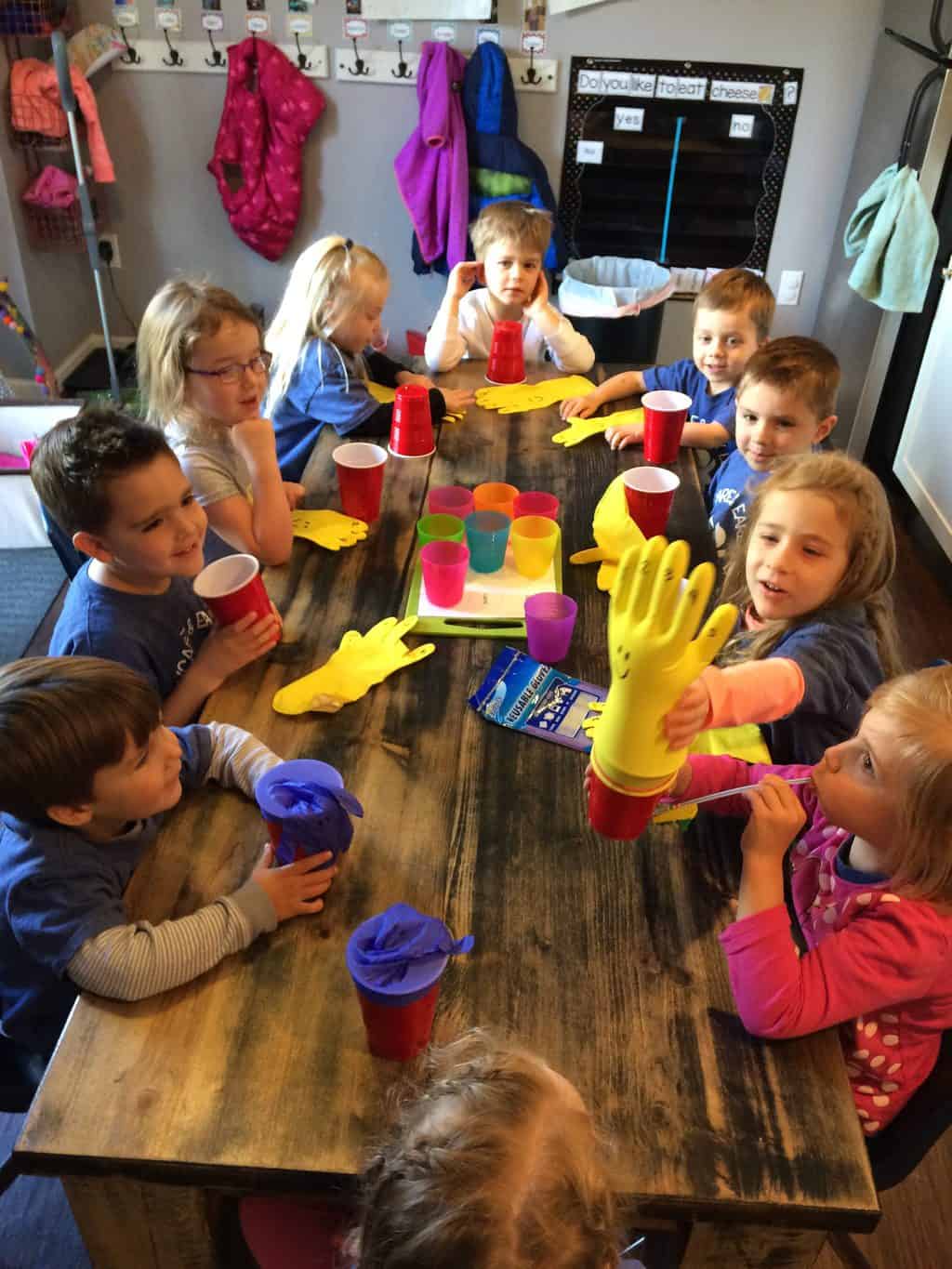 ---
Benefits of doing this silly science experiment with your group:
You will have a high engagement level! No one will be asking to escape from the table to go back to their Super Hero Figurines.
It won't cost you very much! Most of the items can be found at the Dollar Store.
It's a hands-on science project!
It's a science activity for toddlers as well as preschoolers. Your toddlers may need a bit more assistance but they will marvel at the results!
---
EXPLORING SCIENCE WITH TODDLERS
People often ask, "At what age should I start doing science activities with kids?"
While young toddlers won't understand the concept of science, it's never too early to share fun activities with them that will capture their attention. This easy science experiment for preschoolers will definitely fit the bill for toddlers too!
---
Supplies You Will Need
This post contains affiliate links via amazon.

---
How To Prepare For This Easy Science Experiment
Gather your supplies.
Draw a number on each of the glove fingers (1-5) as well as a smiley face before the kids arrived.
Use a hole punch to make a hole in the cup just over half way down from the rim of the cup. This will save you a step later during assembly.
Show the kids the supplies.
Sit with the kids and let them dream up ways to make the rubber glove stand tall.
Build a sample in front of them.
Let them make a hypothesis (yes! teach them this BIG word! They love it!)
Demonstrate how to blow up the glove with your straw.
---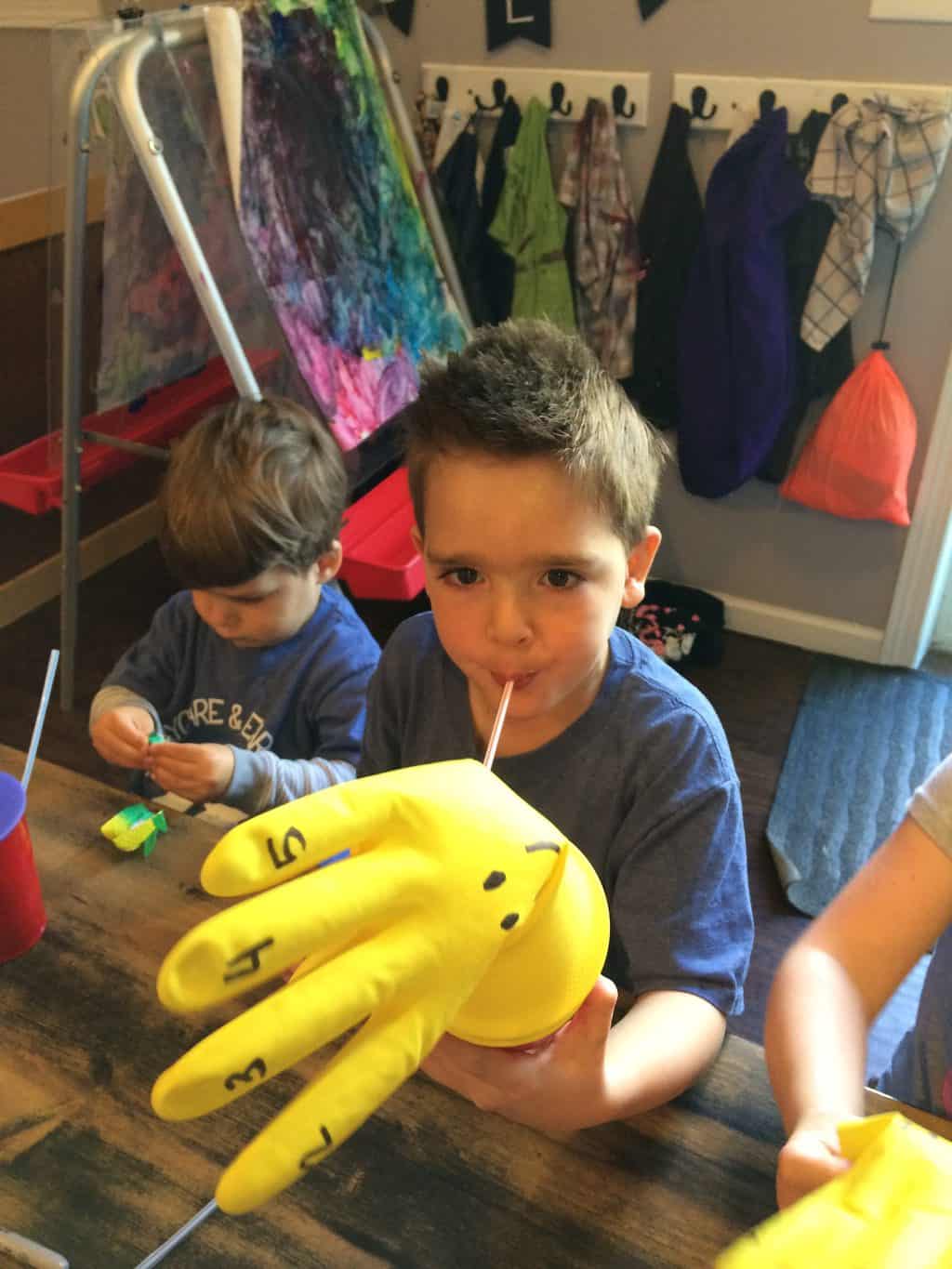 ---
INSTRUCTIONS:
Sitting at a table or as a group on the floor start assembling the gloves & cups together.
It's helpful to write their name on the bottom of the cup.
Put the rubber glove over the top of the cup and secure with a rubber band.
Insert the straw into the small hole on the side of the cup. If the hole is too big for your straw, you may need to create a seal using duct tape.
Let the kids blow into the straw to see if they can inflate the yellow rubber glove!
Make notes about this activity in this handy planner created for family child care!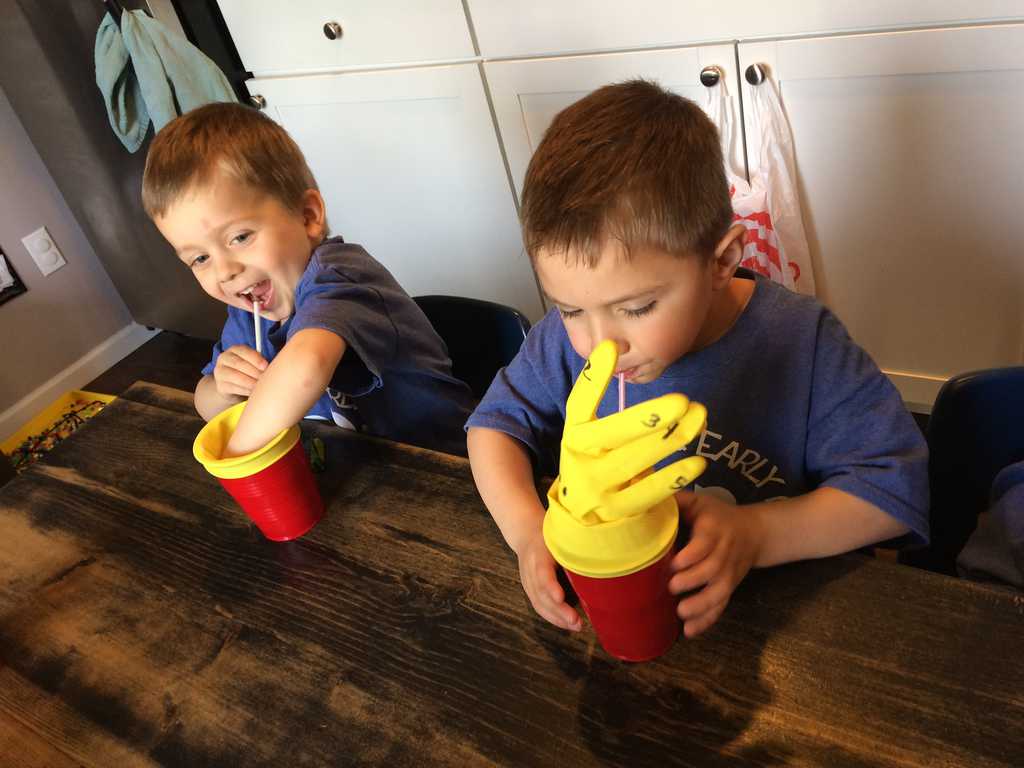 ---
9 More Science Activities for Toddlers and Preschoolers
DO YOU HAVE LEFT OVER RUBBER GLOVES?
Check out this fun idea!
I also stumbled upon this idea using rubber gloves as a sensory activity combine with paint!
---