Hands on math activities for preschoolers are the most effective way to teach young children about number concepts. This activity is super easy and affordable and best of all you'll have a group of young preschoolers (toddlers too!) who are fully engaged in the experience.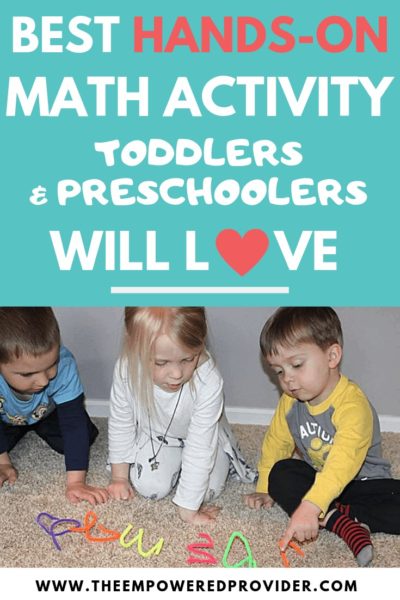 WHY CHOOSE HANDS ON MATH ACTIVITIES FOR PRESCHOOLERS?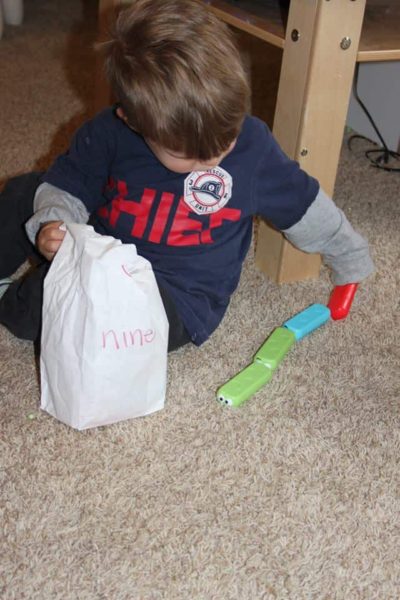 It's highly effective!
Toddlers & preschoolers are movers and shakers. They don't care to sit for long periods of time (nor should they be expected to), and a math worksheet bores the heck out of most of them.
It's time to introduce math concepts in a fun and hands on way that is meaningful and appropriate for their stage of development.
You can read more about the NAEYC's reasons for making math meaningful.
TEACHING MATHEMATICS IN EARLY CHILDHOOD
Introducing numbers and other pre-math concepts is valuable to young children as it will lay the foundation for when they enroll in elementary school. Math activities for preschoolers do not have to be intense or stressful or complicated.
It's best to work these concepts into everyday activities like counting the granola bars as you set each place during snack time or finding numbers on signs or mailboxes during an outdoor walk!
Hands on math activities are truly the best way to lay the groundwork for counting and number recognition when working with young children.
HERE'S WHAT YOU'LL LOVE ABOUT THIS ACTIVITY:
It's cheap and easy!
It will stir up a connection between home and "school"!
Preschoolers AND toddlers will be fully engaged!
Parents will have a chance to incorporate some meaningful math at home as they help their child hunt and count out the number of items assigned to them!
MATERIALS YOU WILL NEED:
Paper Lunch Bags – one per child (the larger sizes allows for a bit more room)
Sharpie
FREE HANDOUT that includes instructions for parents! (see box below)
PREPARATION:
Write the child's name on the bottom of the bag.
Assign a number to each child (avoid using 0, 1).
Write the number (big!) on the front of the bag and add the number name below it (i.e. 8 and "eight")
Send home the bag along with instructions for the parents on how to complete the activity. Be sure to include a 'return by' date.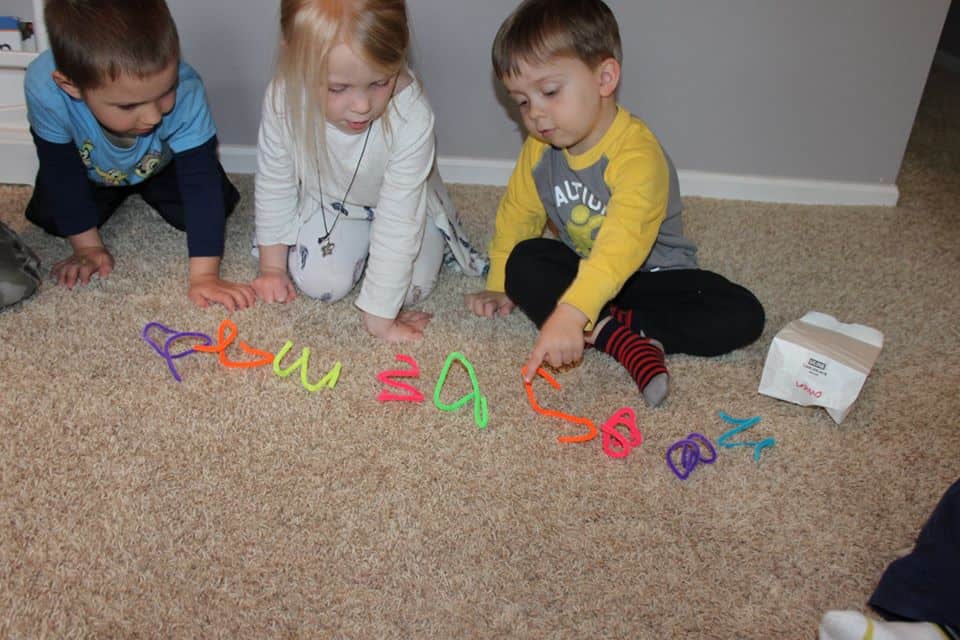 ACTIVITY TIME!
As the bags are returned, put them in a place that is out of reach. This will help keep the suspense high! (Plus it will avoid all of items inside from being scattered throughout your play space!)
Gather the children together during your morning meeting. Sit in a circle.
Pull out one bag at a time and ask the child to come up and share their number with the group.
Sometimes we clap the number out first before opening the bag.
Let the child open their bag and dump out the contents.
Ask the child to line up the items.
As the child points to each item have the rest of the kids count out loud together. (Great 1:1 correspondence going on here!)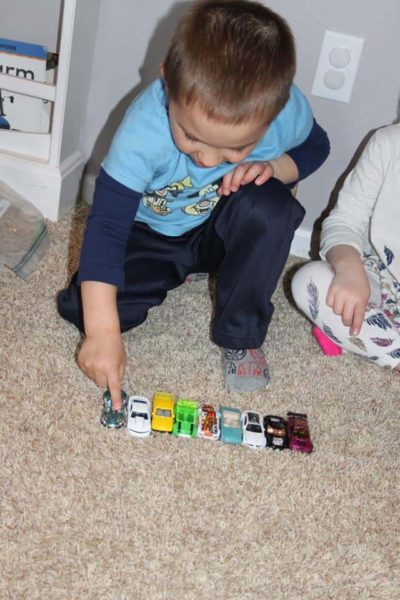 LOOKING FOR MORE WAYS TO ADD TO YOUR PRESCHOOL MATH CURRICULUM?
Don't forget calendar time! It's a great way to sneak in intentional pre-math concepts with children. Read how to make calendar time meaningful HERE.