Some people may say that putting an end to potty talk in preschool is impossible, but I beg to differ.
Have you ever heard a preschooler use words they know they shouldn't be using? Do you speak potty talk? You know…words like "poopy head" or "pee pee butt"?
I have been around young kids long enough to know most of them are fluent as well. Kids are always looking for ways to feel in control. Potty talk a young child's ticket to power.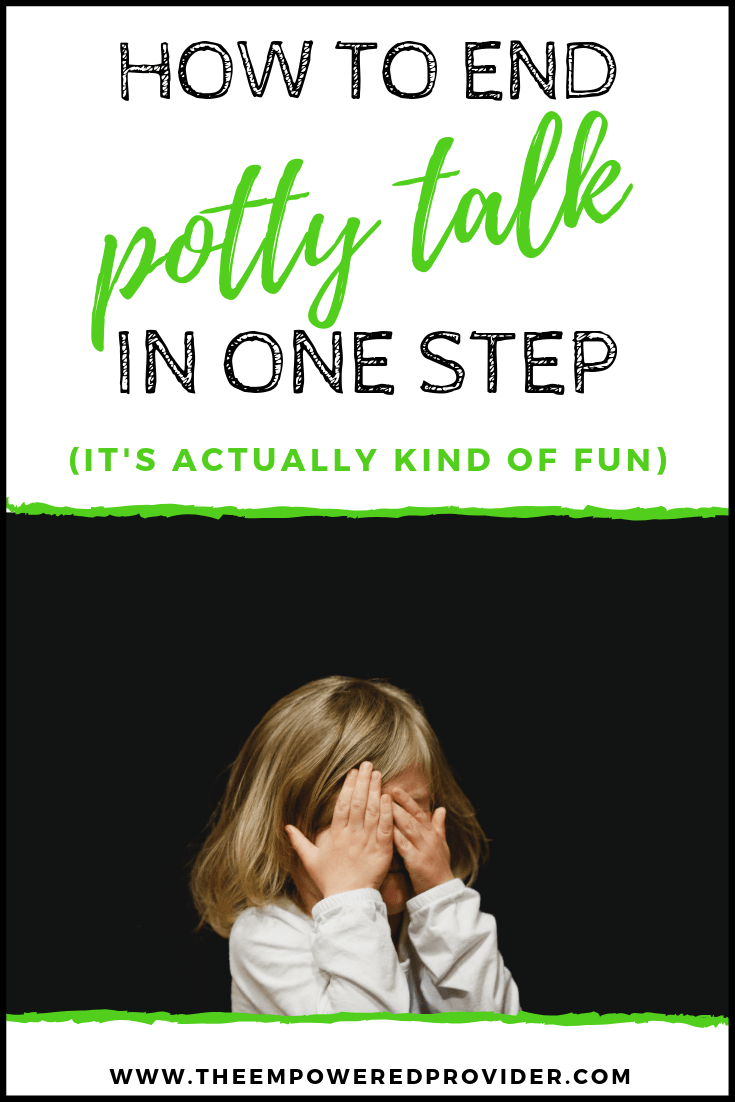 Most Adults Handle Potty Talk Incorrectly
I used to dole out a stern 'time away' or excuse the child from the table all together when they were speaking inappropriately.
I was in control (or so I thought).
I'd say firmly, "Now Ben, we don't talk like that. If you keep talking that way, you're going to be excused from the table."
If the child you're speaking to is hungry for control, they'll keep going.
Nothing Seemed to Work.
Showcasing my frustration never stopped the behavior. In fact, it only seemed to make it worse. I found myself in the middle of a power struggle I never intended to be a part of.
---
The Meaning of Potty Talk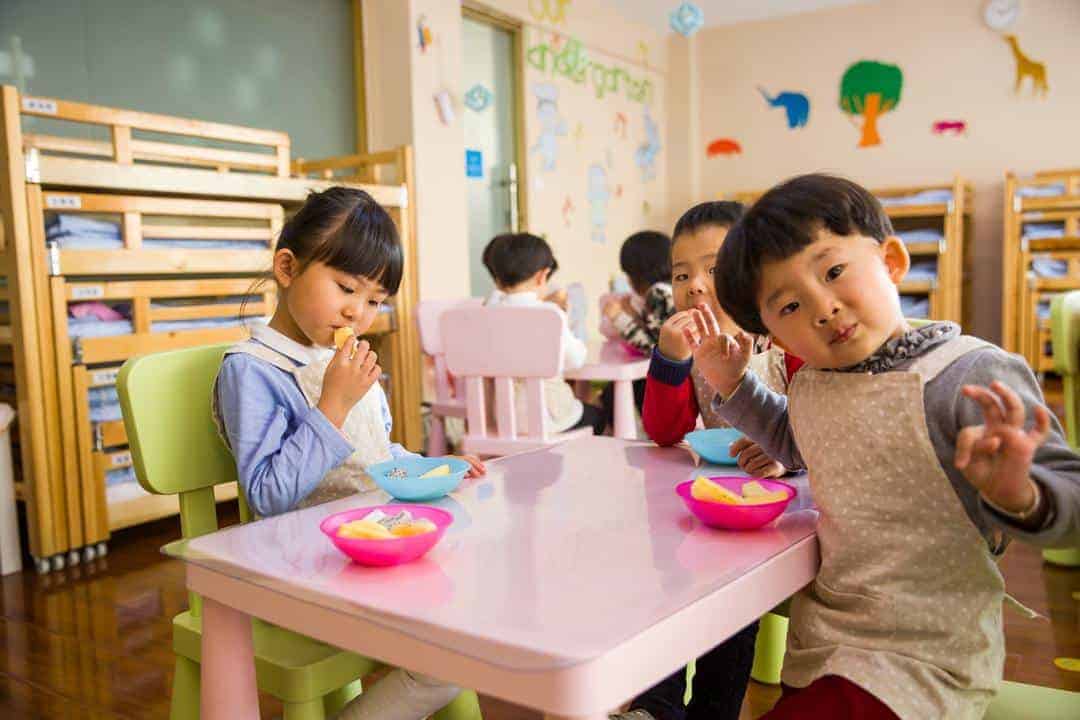 A 3-year old has only been on the planet for 36 months.
A 4-year old has only been on the planet for 48 months.
That's not a lot of time to have all the ins and outs of communication figured out.
Kids learn very quickly that some words have more power than others.In a previous post, I wrote about how most kids have very little control over their world and are often times acting out simply to gain more power and control. There are lots of ways to give a child choices to help them feel empowered and to naturally diminish power struggles.
Kids are tiny scientists.
Just as they do with pouring water in a bathtub or stepping on the dogs tail or throwing their sippy cup on the floor. They are testing out the theory of cause and effect and deeply searching for power over their environment.
---
How to End Potty Talk for Good
Stay calm and

emotionless

. Put your scorn face and laser beam eyes away in a drawer. Lock the drawer. If you show any type of emotion, the child knows that toilet words have power over you and they will grow hungry for more.
Turn your logical adult brain off and go completely clueless. You must momentarily become an adult who has no idea that kids use these words to get a rise out of other people. You must convince the child that you only think kids use these toilet words for true functionality purposes: when they have to use the bathroom.
Start acting and whisper. Go for a Golden Globe here. Channel your best Sally Fields. Put on your best clueless face and present a calm urgency. Be your most loving self, but work quickly.
Look around the room in a slow (pretend) panic and whisper softly (out loud) this one jack-pot phrase: "Oh dear…I wonder if someone needs to use the bathroom…"
Walk over to the potty talker and bend down. With your most loving arms and patient voice, whisper to the child that you are here to help and gently slide their chair out and help them to the potty.
---
Fixing a Potty Mouth Can Go One of Two Ways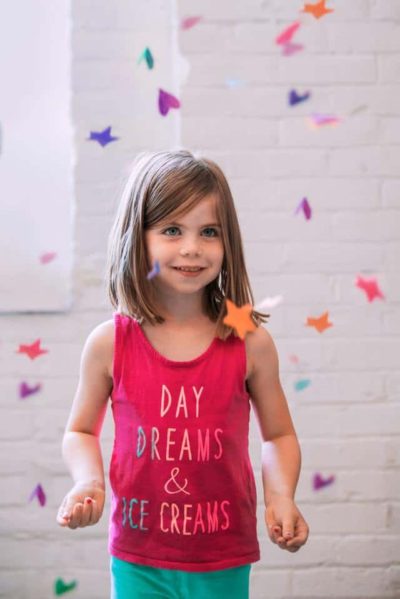 ONE: Some kids will let you usher them, but they'll have THEE most confused look on their face. The other kids watching will also look confused. They all know that the potty talker doesn't have to actually go potty. All of the kids who are paying attention to the situation will be in awe of your naivety.
Your Script: "Let's go let's go let's go…oh dear…I am here to help. Let's get you to the potty before it is toooo late. Oh dear. I'm so glad I heard you say (insert toilet word). I love to help kids. Don't you worry, it's going to be just fine. We'll get there together."
Once you get the child to the bathroom, usher them in and close the door. Through the door, let them know you are here to help if they should need anything else.
Often times, the child will use the toilet, wash their hands and return to the table.
Once they do, you don't have to say another word. Just go back to what you were doing.
---
TWO: Other kids will make it very clear with their body language that they do not want to be moved when you try to usher out of their seat and to the potty. They may buck and flail a bit. They'll insist on staying at the table and shout, "I DON'T HAVE TO GO TO THE BATHROOM!"
If this is the case, I always let them stay where they are and whisper to them (loud enough so the other kids could hear), "Miss Roz is always here to help. If you need to go potty or poop, you just let me know and I will help you. We can get to the potty fast if you need to go. I'm so sorry, I thought you had to go poop because you were talking about poop. Whew! I'm so relieved. I was worried we were going to have a mess in the kitchen. I'm so glad to hear you're okay."
AAAAND SCENE.
Curtain closed.
Go back to what you were doing.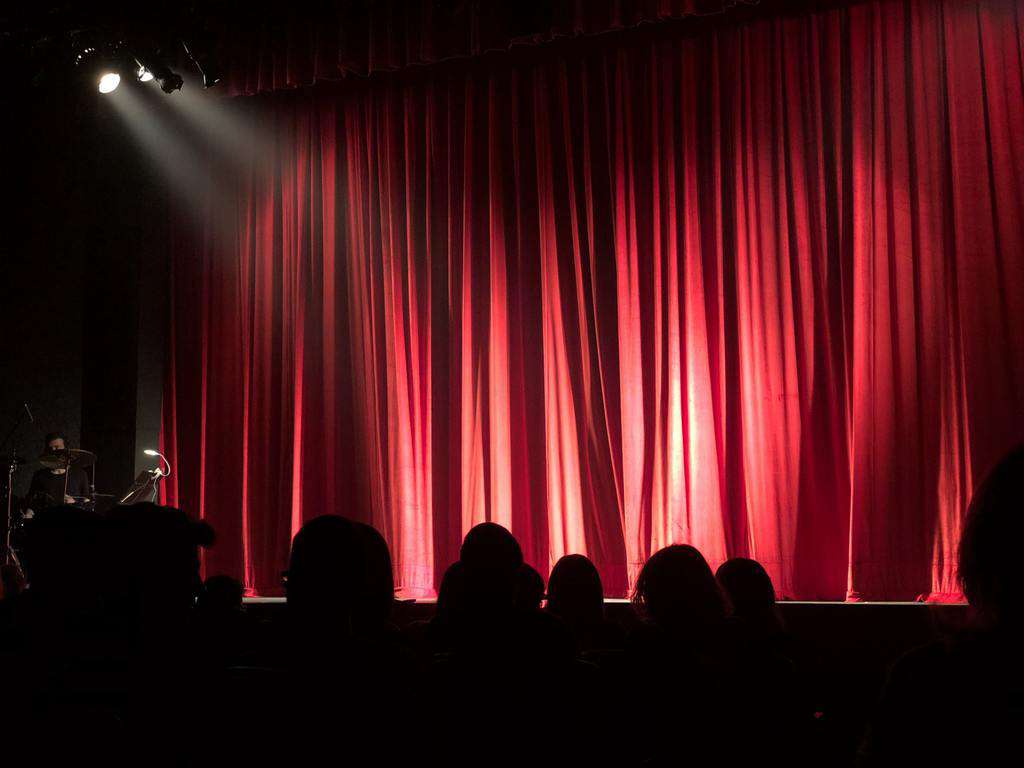 WHY THIS CALM & CONTROLLED METHOD WORKS SO WELL
To combat the unwanted behavior, you were calm, you were loving and you let the child know you were there to help them.
You avoided the power struggle.
By acting clueless, you took the power out of the potty talk.
The child might be a little perplexed, but they will be glad you responded to their vocabulary experiment with love and patience.
The child realizes that there is no pay-off for the behavior. The other kids watching will also come to this realization. Therefore, the behavior naturally dissipates.
One major tip: Be most careful not to be sarcastic. Sarcasm is your worst enemy and is damaging to the relationship you have with the child. You need to be as authentic as you can.If you like this tip, then you must read more books on a parenting technique called Love & Logic. That's where I got this idea and used it anytime we had a toilet humor problem. You don't have to purchase the book–you can always check it out from your local library.
Cheers to the extinction of potty talk!